Amadeus
27 July – 12 August 2023
Written by Peter Shaffer
Directed by Cate Clelland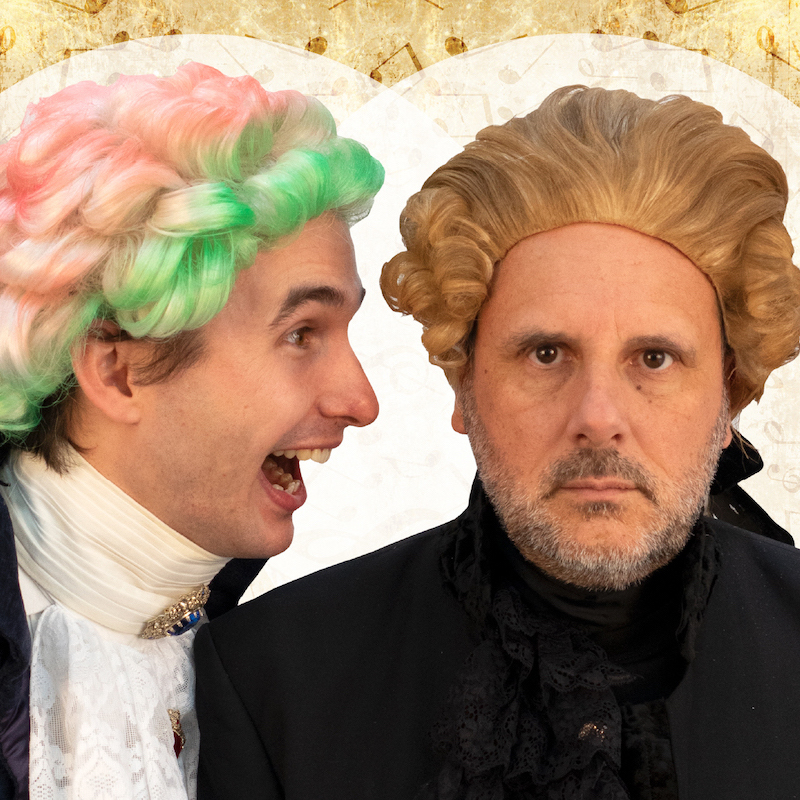 Preview Thursday 27 July (followed by a Q&A with the cast and director)
Season: 28 July – 12 August 2023
Evenings 7:30pm: Wed – Sat
Matinees 2pm: 5, 6 & 12 August
A deadly battle of jealousy and genius.
Salieri bargained with God: servitude in return for fame through music. He rises to become the favoured Austrian Court Composer when Mozart arrives: foolish, foul-mouthed, and a musical genius. God has betrayed their bargain and Salieri will have his revenge.
Mozart's music underscores the relationship between these two composers; their fates entwined with murderous intent. This is Salieri's confession. Did he do it?
Amadeus explores the overwhelming obsession that occurs when we reimagine our life in the spotlight of someone else's talent.
By Arrangement with ORiGiNTM Theatrical, On Behalf of Samuel French, A Concord Theatricals Company
CAST
Antonio Salieri — Jim Adamik
Wolfgang Amadeus Mozart — Jack Shanahan
Constanze Weber, wife to Mozart — Sienna Curnow
Joseph II, Emperor of Austria — Neil McLeod
Count Johann Killian von Strack — David H Bennett
Count Franz Orsini-Rosenberg — Tony Falla
Baron Gottfried van Swieten — Ian Russell
Two 'Venticelli' — Michael J. Smith, Justice-Noah Malfitano
Katherina Cavalieri — Harriet Allen
Citizens of Vienna — Charlotte Edlington, Grace Jasinski, Blair Liu, Kelly McInnes, John Whinfield, Joan White
MEDIA
CityNews, Helen Musa — Jim's in the enviable role of the envious Salieri
"What instantly impresses about the play is its sheer theatricality, seen in the device of the narrator who steps in and out of the action and two characters called the "Venticelli"... who move in social circles and inform Salieri and the audience of what's going on."
Canberra Weekly, Jessica Cordwell — Music and rivalry for the history books in 'Amadeus' at REP Theatre
"An exploration of the human psyche, [director, Cate] Clelland says the play shows what one could do if they have been all-consumed by jealousy and burning ambition. Wanting to take Mozart down, Salieri manipulates and lies, trying to change public perception of the famed composer."
REVIEWS
Stage Whispers, Michele E. Hawkins — Amadeus
"REP's Amadeus is captivating in its unravelling of two human beings, in the journey into Salieri's mind, bitterly twisted by every note of Mozart's genius.
"
CityNews, Simone Penkethman — Adamik's gravitas underpins the lavish 'Amadeus'
"Salieri is a huge role and Adamink's solid gravitas underpins the show. His voice work is a highlight ... But the stage really comes alive with the brilliantly cast couple: Mozart and Constanze. Shanahan and Curnow's lively chemistry injects a sense of chaos and excitement into every scene in which they appear...
"
Canberra Critics Circle, Len Power — Amadeus
"Cate Clelland ... has given us a memorable staging of this very entertaining and thought-provoking play."
Canberra Critics Circle, Frank McKone — Amadeus
"Canberra REP has done us proud, in Cate Clelland's directing and in everyone's obvious enthusiasm in the often amusing yet telling acting style, the set design (including terrific backdrop photos), the music recording, lighting and sound, ... as well for the amazing beautiful 18th Century costumes and hairstyling. Here's another REP production not to be missed."
Canberra Critics Circle, Peter Wilkins — Amadeus
"Shaffer is a superb storyteller and Clelland's production has capitalized wonderfully on his theatrical flair."
Canberra Critics Circle, Bill Stephens — Amadeus - Canberra Repertory Society
"Canberra REP's production of "Amadeus" provides one of the highlights of its year so far, and as such, is highly recommended."
ONLINE PROGRAM
PERFORMANCE DATES & TIMES
Thursday 27 July, 7:30pm Preview (followed by a Q&A with the Cast & Director)
Friday 28 July, 7:30pm Opening Night
Saturday 29 July, 7:30pm
Wednesday 2 August, 7:30pm
Thursday 3 August, 7:30pm
Friday 4 August, 7:30pm
Saturday 5 August, 2:00pm & 7:30pm
Sunday 6 August, 2:00pm
Wednesday 9 August, 7:30pm
Thursday 10 August, 7:30pm
Friday 11 August, 7:30pm
Saturday 12 August, 2:00pm & 7:30pm
TICKETS
Season subscriptions available now, see our 2023 Subscriptions page for details.
Gift vouchers now available for season subscriptions and single tickets — give the gift of REP
Single tickets on sale now.
Standard — $50
Preview — $40
Members — $38
Under 30s — $25
Concession (Full Time Student, Concession Card, Seniors Card) — $40
Group (6+) — $40
All sales are subject to a $4 per transaction Telephone Booking Fee