Crimes of the Heart
27 April – 13 May 2023
Written by Beth Henley
Directed by Karen Vickery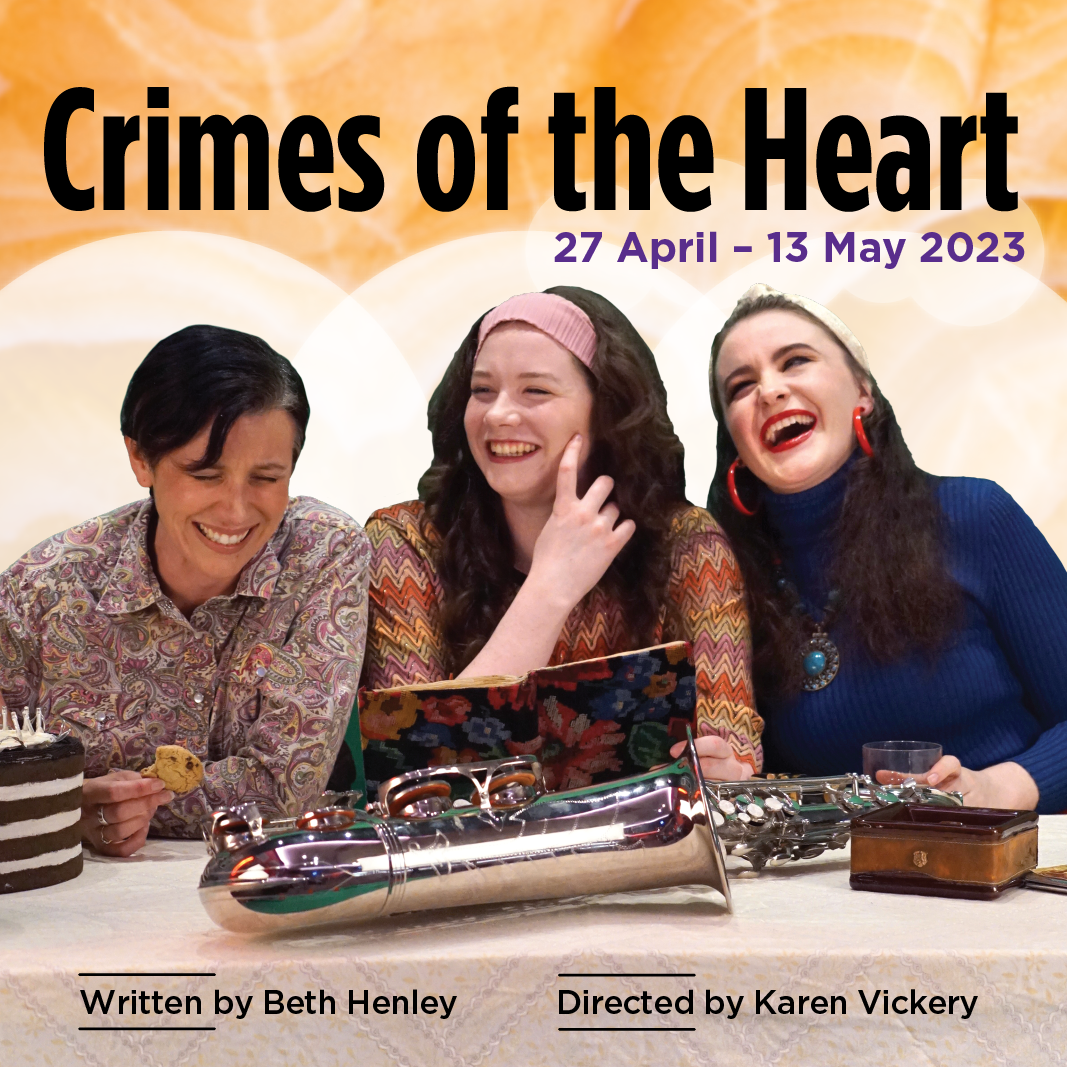 Preview Thursday 27 April (followed by a Q&A with the cast and director)
Season: 28 April – 13 May 2023
Evenings 7:30pm: Wed – Sat
Matinees 2pm: 6, 7 & 13 May
Even crimes of the heart have consequences.
Beth Henley's award-winning and darkly funny play is set in 1974 in Hazlehurst, Mississippi USA, five years after Hurricane Camille. Old Granddaddy has had a stroke, bringing the three Magrath sisters together in their hometown for the first time in a decade. Lenny never left. Meg pursued the spotlight, but found spirits. Babe has shot her husband. In the eye of this mounting storm, grief, abandonment, and failure cannot break the sisterly bond as love and laughter prevail.
Crimes of the Heart explores the consequences of past choices and how these force us to reimagine our present relationships and future path.
Produced by special arrangement with and all authorized performance materials supplied by WILLIAM MORRIS ENDEAVOR ENTERTAINMENT, LLC.
CAST
Lenny Magrath — Carmen King
Meg Magrath — Meaghan Stewart
Babe Botrelle — Ella Buckley
Chick Boyle — Kathleen Dawe
Barnette Lloyd — Ty McKenzie
Doc Porter — Robbie Haltiner
MEDIA
Canberra Weekly, Jessica Cordwell — Canberra Rep commits Crimes of the Heart on stage
"While it addresses dark themes, it is a story that focuses on connections and offers many moments of laughter and joy."
REVIEWS
CityNews, Helen Musa — Cast triumphs in Rep's 'Crimes of the Heart'
"...in the hands of director Karen Vickery the minute examination on stage of what she calls a "pressure-cooker situation" pays off for anyone interested in the art of acting."
Canberra Critics Circle, Peter Wilkins — Crimes of the Heart
"...every moment of this drama is absorbing, sometimes funny sometimes sad, occasionally tragic, always realistic and often turning the mirror upon our own lives."
ONLINE PROGRAM
TICKETS
Season subscriptions available now, see our 2023 Subscriptions page for details.
Gift vouchers now available for season subscriptions and single tickets — give the gift of REP
Single tickets on sale from December 2022.
Standard — $50
Preview — $40
Members — $38
Under 30s — $25
Concession (Full Time Student, Concession Card, Seniors Card) — $40
Group (6+) — $40
All sales are subject to a $4 per transaction Telephone Booking Fee