Home, I'm Darling
22 June – 8 July 2023
Written by Laura Wade
Directed by Alexandra Pelvin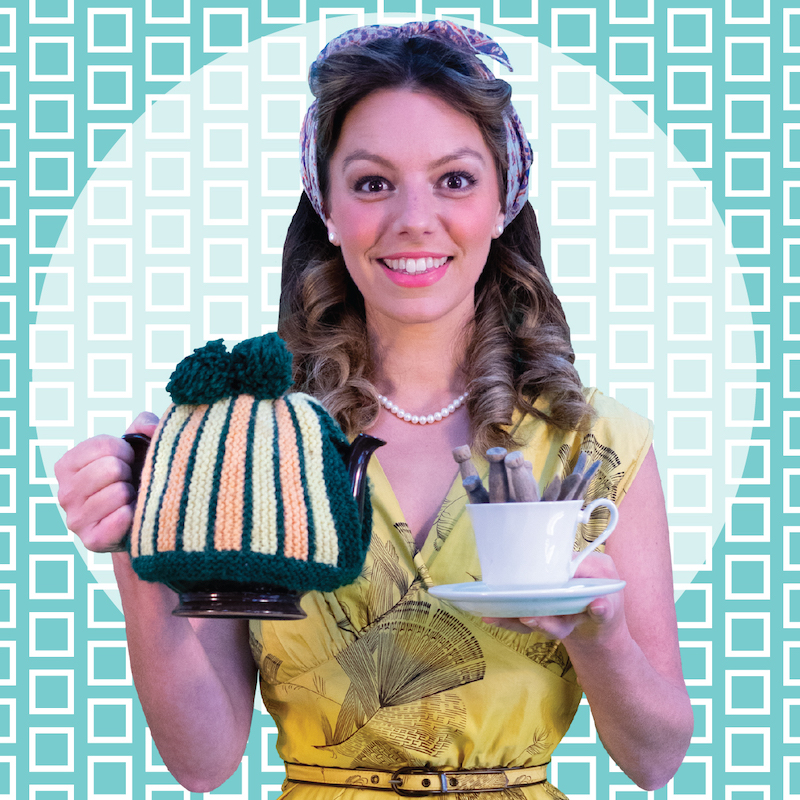 Season: 22 June – 8 July 2023
Evenings 7:30pm. Matinees 2pm.
Q&A with the Cast & Director to follow the matinee on Sunday 25 June
Complete list of performance dates and times below.
Every marriage needs a little fantasy to keep it sparkling.
Judy is on a quest to be the perfect 1950s housewife to her husband Johnny. The problem is it's 2018 and being a domestic goddess isn't as easy as following a manual. This Olivier-winning contemporary British satire pulls back the gingham curtains, making sharp observations about responsibilities, nostalgia, and choice in a marriage that is unravelling at the tightly sewed seams.
Home, I'm Darling explores how far the nostalgia of reimagining can take us from living life in the present.
By Arrangement with ORiGiN (TM) Theatrical, On Behalf of Samuel French, A Concord Theatricals Company
CAST
Judy — Karina Hudson
Johnny — Ryan Street
Fran — Natalie Waldron
Marcus — Terry Johnson
Sylvia — Adele Lewin
Alex — Kayla Ciceran
MEDIA
CityNews, Helen Musa — When the fabulous fifties start to fade
"To a contemporary audience Judy and Johnny will be representatives of people retreating from the world, a very present idea for people coming out of lockdown. But underneath, there is the theme of finding control in an unpredictable environment. Judy has opted for the '50s as reliable, but the world proved to be a lot more chaotic."
REVIEWS
Stage Whispers, Michele E. Hawkins — Home, I'm Darling
"Home, I'm Darling is a captivating, amusing, delightful production from beginning to end. Grab a ticket and take a romp back to the 1950s before it goes!"
Canberra Critics Circle, Len Power — Home, I'm Darling
"...director, Alexandra Pelvin's production is a highly detailed delight. Her cast of six all give fine performances of great depth and comic timing."
That Guy Who Watches Canberra Theatre — Home, I'm Darling
"Altogether this is a thought provoking, intelligent, stylish production that digs a little deeper than you may expect. Well worth going out in a Canberra Winter."
Canberra Critics Circle, Alanna Maclean — Home, I'm Darling
"A funny and thought provoking choice by Canberra REP, well directed by Alexandra Pelvin."
CityNews, Samara Purnell — Sinister side to the funny lines
"A wonderfully detailed and interesting set design and staging ... gives the audience plenty to marvel at and the characters a lot to work with..."
Canberra Critics Circle, Peter Wilkins — Home, I'm Darling
"Pelvin imaginatively directs a stellar cast with sharply observant intuition and theatrical flair. ... Wade has given us food for thought and REP has given us a production that is finely staged and wonderfully entertaining."
Canberra Critics Circle, Frank McKone — Home, I'm Darling
"...from every point of view, Canberra REP's production of Home, I'm Darling is not to be missed."
ONLINE PROGRAM
PERFORMANCE DATES & TIMES
Thursday 22 June, 7:30pm Opening Night
Friday 23 June, 7:30pm
Saturday 24 June, 2:00pm & 7:30pm
Sunday 25 June, 2:00pm (followed by a Q&A with the Cast & Director)
Wednesday 28 June, 7:30pm
Thursday 29 June, 7:30pm
Friday 30 June, 7:30pm
Wednesday 5 July, 7:30pm
Thursday 6 July, 7:30pm
Friday 7 July, 7:30pm
Saturday 8 July, 2:00pm & 7:30pm
TICKETS
Season subscriptions available now, see our 2023 Subscriptions page for details.
Gift vouchers now available for season subscriptions and single tickets — give the gift of REP
Single tickets on sale now.
Standard — $50
Preview — $40
Members — $38
Under 30s — $25
Concession (Full Time Student, Concession Card, Seniors Card) — $40
Group (6+) — $40
All sales are subject to a $4 per transaction Telephone Booking Fee