Throughout the year, the directors from REP's mainstage productions will each present a one-off masterclass. Topics will be chosen by each director with limited paid spots available for each session. So, if you see a masterclass you like below, best book in quick!
If you have any questions please email studio@canberrarep.org.au or call (02) 6257 1950 or (02) 6247 4222.
Want to be the first to know about Masterclasses? Join our fortnightly eNews.
---
UPCOMING MASTERCLASSES
Elements of a Scene with Alexandra Pelvin — 11am, Sunday 18 June 2023 — CLICK FOR DETAILS
PRICING
Member — $38
Non-member — $50
All sales are subject to a $4 per transaction Telephone Booking Fee
Online Bookings available closer to the event date.
---
Elements of a Scene with Alexandra Pelvin
Presented by REP Studio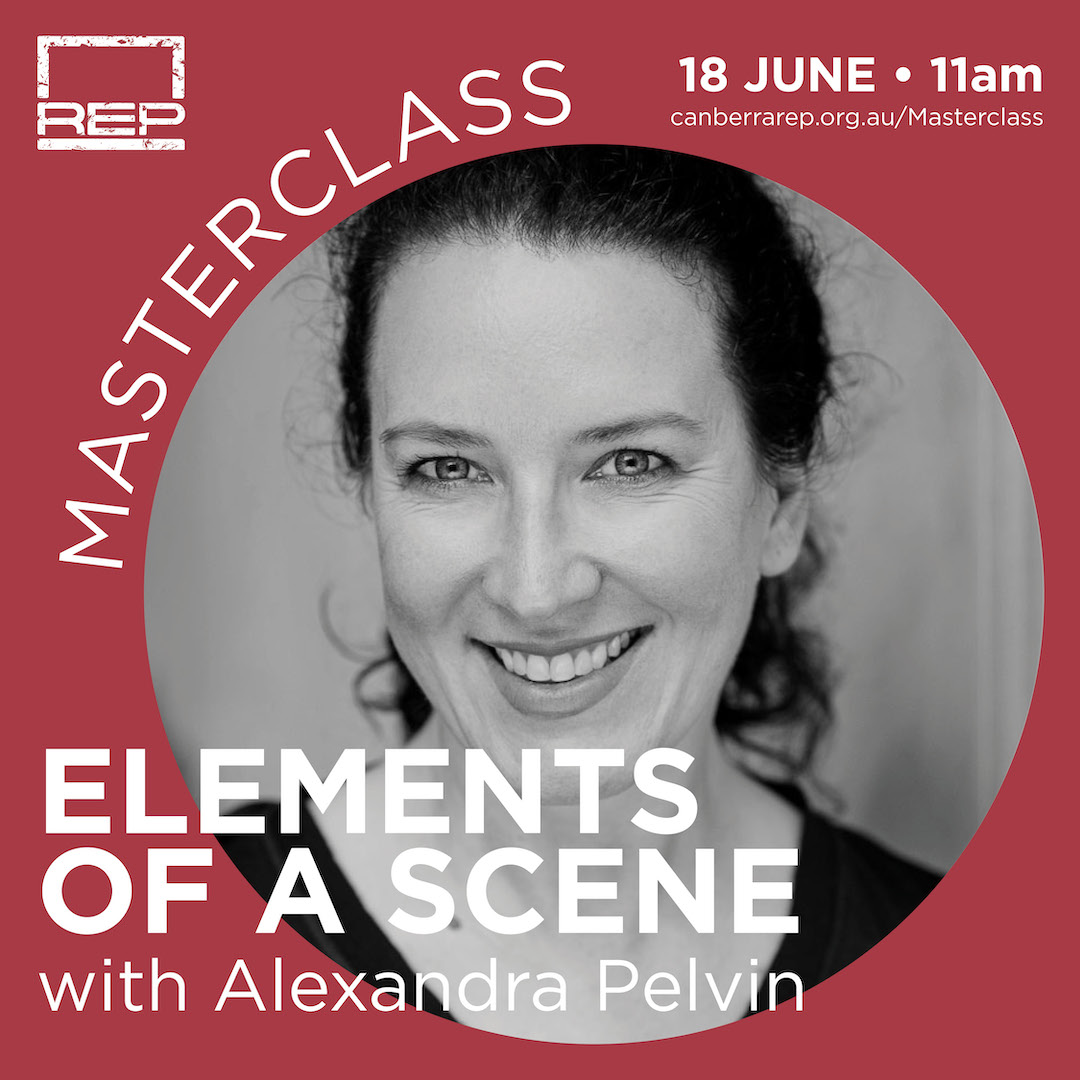 DETAILS
Date: Sunday, 18 June 2023
Time: 11am – 1pm
Location: Canberra REP Theatre
ABOUT THE CLASS
Breaking down a scene into its key elements can help you deliver a focused and purposeful performance. In this two-hour small-group masterclass, Alexandra will cover scene analysis techniques actors can use when approaching auditions and rehearsals. You will have the opportunity to apply these techniques in an interactive and practical session.
Numbers are strictly limited. Early bookings are encouraged.
ABOUT ALEXANDRA
Alexandra is an actor and emerging director. For REP, she directed Hotel Sorrento and was Associate Director on To Kill a Mockingbird and Cat on a Hot Tin Roof. She also worked as Assistant Director for Mockingbird Theatre's productions of The Judas Kiss, The Laramie Project, and The Laramie Project: Ten Years Later.
As an actor, recent appearances include: Urinetown: The Musical (Heart Strings Theatre Co); Our Country's Good, A Christmas Carol, Così, The Art of Coarse Acting, A Doll's House, One Man, Two Guvnors, and A View From The Bridge (REP); and The Art of Teaching Nothing (Budding Theatre). She has also performed in long-format improv productions, including Chez Colette and Rapt in Felt (Chrysalis Theatre). Short film credits include: Becoming Emma Braintree (Vorfreude Pictures), Sunday and Chuggers (Red Gadget Films).
---
PAST MASTERCLASSES
Text Analysis with Karen Vickery — 6:30pm, Monday 8 May 2023 — CLICK FOR DETAILS
---
Text Analysis with Karen Vickery
Presented by REP Studio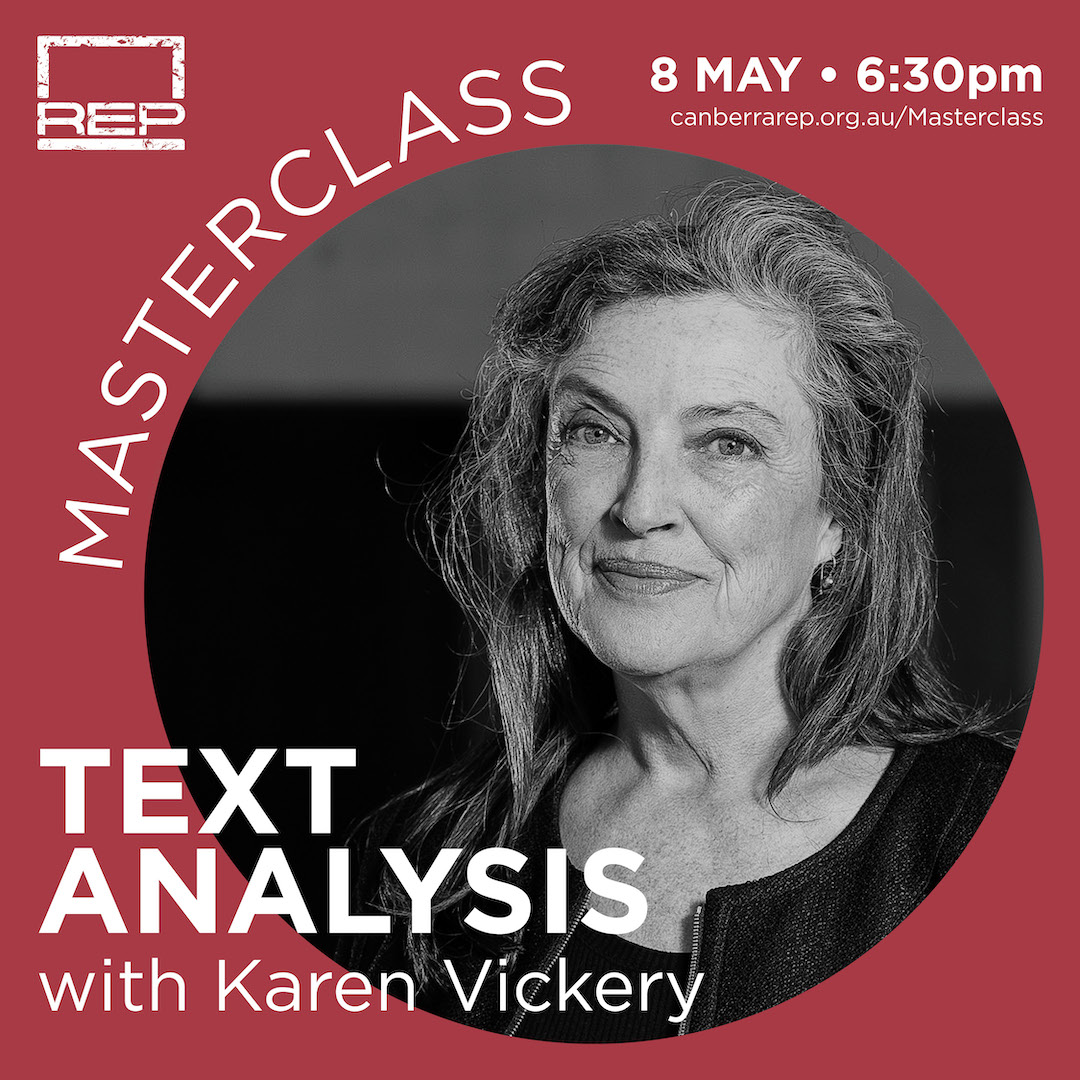 DETAILS
Date: Monday, 8 May 2023
Time: 6:30—8:30pm
Location: Canberra REP Theatre
ABOUT THE CLASS
The enemy of fine acting is generalisation.
In this small-group masterclass, Karen will introduce concepts for how an actor can interrogate the script to find keys for a detailed performance. You will apply these concepts to work on a Shakespeare monologue and a piece of modern text.
ABOUT KAREN
Karen is an award-winning actor and director and the founder of Chaika Theatre, part of ACT Hub Canberra. She has a Bachelor of Arts with Honours and First Place from the University of Melbourne, a Bachelor of Dramatic Art in Acting from NIDA, and an MA in Theatre and Film Studies from the University of New South Wales. Karen graduated from NIDA in 1983. She has performed in all media and for a range of companies including Sydney Theatre Company, Belvoir, commercial theatre, independent theatre, ABC TV and radio, film and commercial television. Karen was a lecturer at NIDA from 1996–2011, becoming Head of Performance Practices in 2006.
Since coming to Canberra, Karen has won a number of awards for acting and directing. She has appeared for REP as M'Lynn in Steel Magnolias, Lady Bracknell in The Importance of Being Earnest, Beatrice in A View from the Bridge, Anna Akhmatova in The Woman in the Window (CAT Award), and Ma Joad in The Grapes of Wrath. In 2020 she directed Brighton Beach Memoirs for REP which saw her receive a Canberra Critics Circle award. In November 2022, Karen was awarded the Helen Tsongas Award for Excellence in Acting at the Canberra Critics Circle 32nd Annual ACT Arts Awards.
---