REP Digital Programs — We'd love your feedback!
Canberra REP are considering a transition to digital programs, supported by colour printed A5 flyers, starting in Season 2024. Please scroll down to view our Crimes of the Heart digital program and forward any feedback to marketing@canberrarep.org.au
---
CRIMES OF THE HEART
by Beth Henley
Produced by special arrangement with and all authorized performance materials supplied by WILLIAM MORRIS ENDEAVOR ENTERTAINMENT, LLC.
---
CAST
Lenny Magrath • Carmen King
Meg Magrath • Meaghan Stewart
Babe Botrelle • Ella Buckley
Chick Boyle • Kathleen Dawe
Doc Porter • Robbie Haltiner
Barnette Lloyd • Ty McKenzie
SETTING
Hazlehurst, Mississippi, USA
Autumn, 1974
ONE 20 MINUTE INTERVAL
Bar service available during interval & after the performance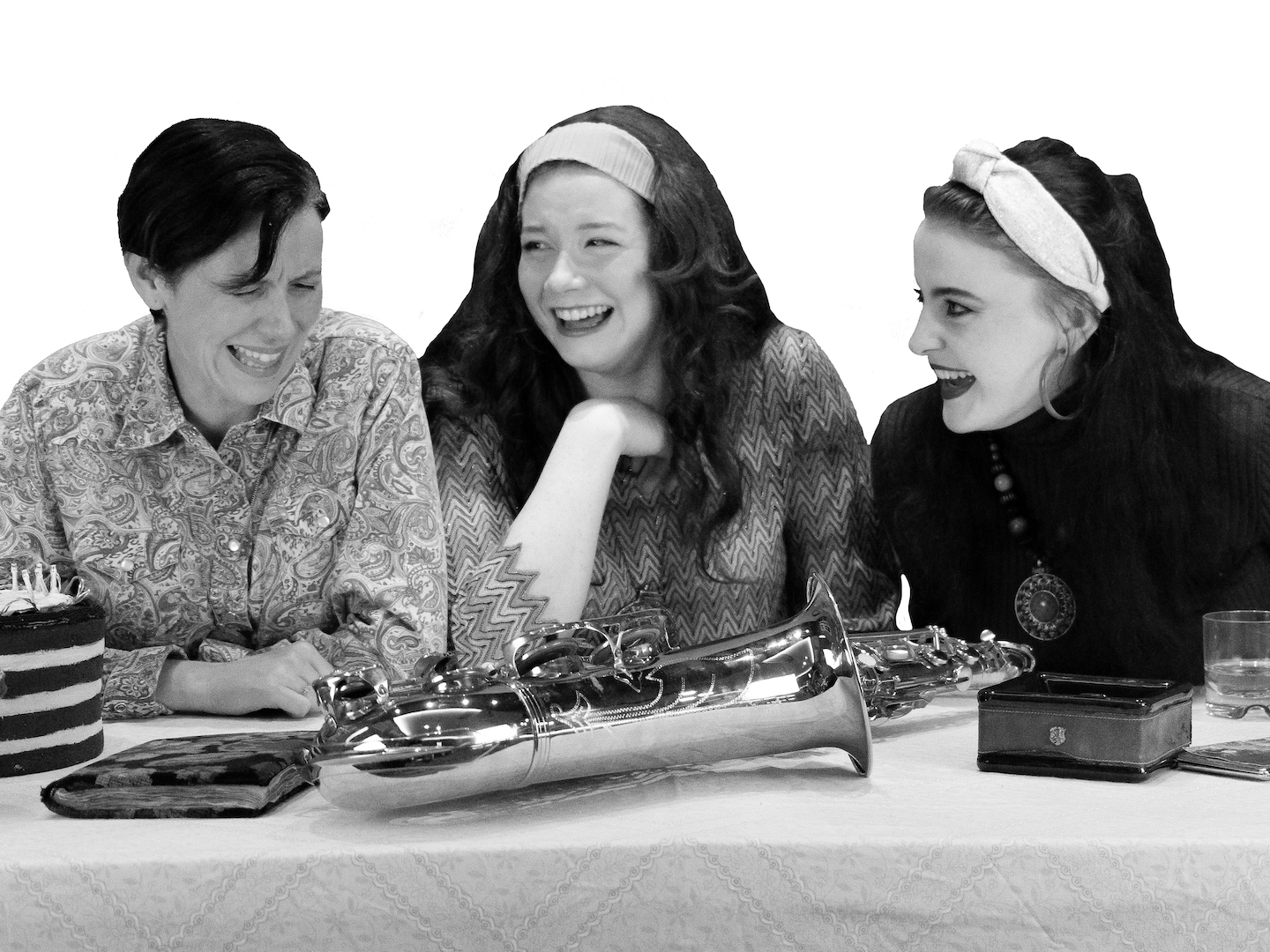 Lenny Magrath (Carmen King), Babe Botrelle (Ella Buckley), and Meg Magrath (Meaghan Stewart)
---
SYNOPSIS
It begins with a cookie and ends with a cake.
Beth Henley's award-winning and darkly funny play is set in 1974 in Hazlehurst, Mississippi USA, five years after Hurricane Camille. Old Granddaddy has had a stroke, bringing the three Magrath sisters together in their hometown for the first time in a decade. Lenny never left. Meg pursued the spotlight, but found spirits. Babe has shot her husband. In the eye of this mounting storm, grief, abandonment, and failure cannot break the sisterly bond as love and laughter prevail.
ACT 1 • Late afternoon
ACT 2 • Later that evening
INTERVAL
ACT 3 • The following morning
"It's a pressure cooker situation. All the characters are unravelling, albeit in highly theatrical and very funny ways. It's a very human drama but also very funny and I love that combination." — Karen Vickery, Director
---
DIRECTOR'S NOTE
Set in 1974 in the small town of Hazlehurst, Mississippi, playwright Beth Henley has created a bitter-sweet and very funny family drama. Each of the three Magrath sisters has a different mountain of trouble as a result of their shared childhood trauma.
Individually, the sisters tackle their demons with downward spirals of despair until one very bad day brings them back to Old Granddaddy's home and the chance to rise up together in support of the youngest.
This tight little world of dysfunction provides dark comedy, Chekhovian laughter through tears, and bleak absurdity. But above all, the play offers hope that with love and understanding we can overcome our demons.
It's been a joyous experience to bring this play to the stage with a dedicated team. We hope that joy translates to you — our audience.
Karen Vickery
---
PLAYWRIGHT • Beth Henley
Henley was born in 1952 in Jackson Mississippi, one of four sisters. She was a member of the acting ensemble at Southern Methodist University and, while there, wrote her first play — a one act play called Am I Blue. She graduated with a Bachelor of Fine Arts in 1974, then taught playwriting at University of Illinois (Urbana) and the Dallas Minority Repertory theatre.
In 1976 she moved to Los Angeles and began work on Crimes of the Heart. She finished in 1978 and submitted it to several regional theatres without success. A friend submitted it to Humana Festival of New American Plays where it was announced as co-winner.
Crimes of the Heart was Henley's first professionally produced play, performed in Louisville in February 1979 with a cast including Kathy Bates as Lenny. It continued to be developed before opening Off-Broadway in 1980 with a cast including Mia Dillon, Mary Beth Hurt, and Peter MacNicol. Later in the run Holly Hunter made her Broadway debut as a replacement in the role of Meg.
The play won the Pulitzer Prize for Drama as well as the award for Best American Play of 1981 from the New York Dramatic Critics' Circle. It was also nominated for a Tony Award (losing to The Life and Adventures of Nicholas Nickleby).
In London, Crimes of the Heart was performed at the Bush theatre with Brenda Blethyn and Amanda Redman. It was adapted into a film in 1986 with Sissy Spacek, Dianne Keaton, and Jessica Lange; directed by Bruce Beresford. Henley was nominated for an Oscar for Best Adapted Screenplay and Spacek was nominated for Best Actress. A 2007 revival at the Williamstown Theatre Festival, directed by Kathleen Turner, moved to New York for an Off-Broadway run with Sarah Paulson and Lily Rabe.
Henley's next four plays — The Miss Firecracker Contest (1980), The Wake of Jamey Foster (1982), The Debutante Ball (1985), and The Lucky Spot (1987) — were also set in the deep south. The Miss Firecracker Contest was adapted into a film in 1989 starring Holly Hunter, Molly Steenburgen, Scott Glenn, and Tim Robbins. Her subsequent work includes co-screenwriting David Byrne's film True Stories (1986) with Byrne and Henley's partner at the time, Stephen Tobolowsky. She currently teaches playwriting at Loyola Marymount University in West Los Angeles.
compiled by Simon Tolhurst
---
CREDITS
Director • Karen Vickery
Assistant Director • Liz de Totth
Stage Manager • Maggie Hawkins
Set Designer • Michael Sparks OAM
Set Coordinator • Russell Brown OAM
Scenic Painting • Andrew Kay
Set Builders • Russell Brown OAM, Tady Carroll, Gordon Dickens, Wolf Hecker, Andrew Kay, John Klingberg, Brian Moir, Eric Turner
Set Dressing • Mae Schembri, Michael Sparks OAM
Properties • Mae Schembri
Costume Designer • Cate Clelland
Wardrobe Assistants • Jeanette Brown OAM, Ros Engledow, Suzanne Hecker, Brenda Kilgore, Anna Senior OAM, Anne Turner, Joan White
Lighting Designer • Mike Moloney
Lighting Operators • Ashlyn Moloney, Liz de Totth, Michael Webb
Sound Designer • Neville Pye
Assistant Sound Designer & Original Music Composer • Josephine Philp
Sound Operators • George Hatch, Josephine Philp, Neville Pye
Front of House Coordinator • Anne Gallen
Front of House Volunteers • Members of the REP FoH Team
Production Manager • Simon Tolhurst
Council Production Liaison • Antonia Kitzel
Marketing • Helen Drum, Karina Hudson
Program • Karina Hudson
Rehearsal photography, promotional images & headshots • Karina Hudson
Foyer photographs • Ross Gould
Graphic design • Tiana Johannis Design, Helen Drum, Karina Hudson
Thanks to • Belinda Henderson, Alex Hoskison, Antonia Kitzel, Disa Swifte
---
FROM THE PRESIDENT
Play your part in helping REP continue to play its important role in Canberra's theatre scene.
Canberra Repertory Society (REP) receives assistance from the ACT Government, through the use of the venue, and from some sponsorships. We do not receive any operational grants — our activities are almost entirely self-funded. We rely on box office receipts, memberships, and your generous tax deductible donations that enable us to continue producing professional-quality theatre.
Canberra Repertory Society is a registered charity with the Australian Charities and Not-for-Profit Commission (ACNC); is registered with the Australian Government through the Australian Tax Office as a Deductible Gift Recipient (DGR); and is listed on the Register of Cultural Organisations (ROCO), administered through the Department of Infrastructure, Transport, Regional Development, Communications and the Arts.
Antonia Kitzel, President
---
OUR DONORS
REP truly appreciates the generosity and commitment of each and every donor. Gifts, both financial and in kind, made by individuals guarantee the excellence that patrons have come to expect from our productions. Donors who gave fifty dollars or more in the current financial year are recorded below.
Geoffrey Bartlett, Judith Bateman, Kevin & Pauline Bryant, Judi Crane, Amy Crawford, Pam Crichton, Roslyn Engledow & Graeme Dennett, Julie Ermert, Stephen Fischer, Ken & Carmel Francis, Graham & Gillian Giles, Lesly Harland, Kathleen Holtzapffel, Keith Huggan, Robert McColl, Mary-Ann McQuestin, Anne Moten, Therese Neal, Sandie Parkes, Joan Pratt, Andreas Radtke, Oliver & Helen Raymond, David Smith, Hugh Smith, Edy Syquer, Fiona Tito Wheatland, David & Jan Weeden, Maureen Whittaker, Geoff Williams, Tim & Shane Woodburn
---
COUNCIL & STAFF
President • Antonia Kitzel
Vice Presidents • Virginia Cook, Alexandra Pelvin
Treasurer • Stephen Fischer
Council Members • Michael Sparks OAM, Liz de Totth, Wolfgang Hecker, Elizabeth Goodbody, Ian Hart
Company Secretary • Malcolm Houston
Minutes Secretary • Winston Bucknall
Business Manager • Helen Drum
Box Office Staff • Ben Waldock
Marketing Assistant • Karina Hudson
Bookkeeper • Fiona Langford