It's Renewal Time Again
Membership renewals are now open. Renew online or, download a
Membership Form and return it to the office with your payment, before April, to remain a financial member of Canberra Repertory.
Would you like to be part of the magic?
As a member of REP you can participate in a range of activities. Some of these require specialised skills, but in all areas there are experienced members who will be happy to provide training and assistance.
Become involved in productions
Meet new friends with common interests
Benefit from discounted ticket prices (member tickets cannot be booked online)
Attend many social functions, such as

Quiz Night
Annual Dinner/Event
Season Launch
Rep Christmas Party and Panto
Don't forget Happy Hour every Friday, 5:30 – 7:00 pm

Keep up to date with what's happening with APPLAUSE, our weekly e-note
Contribute to the direction of REP by participating on a variety of guidance committees or on Council
Members Newsletter
APPLAUSE Note is a weekly e-news alert from REP, which has information on special activities, openings and reminders of special offers or surprises. Become a member to subscribe.
Not a current member, but would love to join?
Time to join in and have some fun. Download a
Membership Form and return it to the office with your payment. Fees are:
Full — $50
Double — $80
Concession — $30
Concession Double — $45
Junior — $15
Distance — $20
What Can You Do..?
The following summaries provide a brief indication of what is involved in each area, but as always the best way to find out more is to come along to Happy Hour on Friday (from 5:30 pm) and ask a fellow REP member.
Acting

REP provides acting opportunities at various levels, from our main-stage productions to smaller Studio productions and rehearsed readings. All main-stage and often REP STUDIO productions are cast by audition. Audition details are published in the REP membership newsletter, on the REP website, and through facebook and instagram.
Stage Management and Backstage crew

Stage Managers and their teams are responsible for ensuring that the show itself runs smoothly. If you are interested in this area, then opportunities exist to work as part of a backstage crew, an assistant stage manager or stage manager.
Lighting/Sound Design and Operation

The Lighting/Sound crew work to design, rig and operate the lighting and sound for shows. These are specialised areas but there are plenty of opportunities for you to gain experience as a trainee on productions.
Set Construction, Painting and Bump-in/out

Lots of jobs here for those with willing hands — if you can wield a hammer or a paint brush, you can be involved. And if you can't here is your chance to learn!
Set Design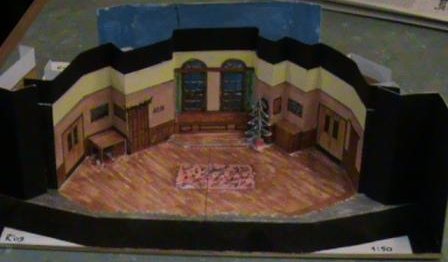 Opportunities exist for those who have an interest in this area. REP is one of the few theatre companies which builds working sets for each production. You can realise your own set design and work with experienced set coordinators as mentors if you are inexperienced.
Props

The Props person is in charge of collecting and/or making, borrowing, hiring or acquiring all the "properties" or bits and pieces used on stage during a show. The Props area is also responsible for the care and maintenance of all properties and for ensuring the right thing is in the right place at the right time for each performance.
General Maintenance

REP has to maintain the theatre building and its fixtures. Several times a year a Company day is held to tackle various maintenance projects. These are run under the watchful, expert eye of REP's Technical Committee members and everyone is encouraged to come and lend a hand — whether its wielding a hammer, a paintbrush or a wettex!
Front of House (FoH)

FoH volunteers are the first point of contact with the audience. Duties include running the wine or coffee bar, ushering, selling tickets or programs or acting as the Front of House Manager. These are pleasant tasks for all and a good way to get to know REP people. Selling tickets and acting as Front of House Manager require a higher level of responsibility and training, which is available on an ongoing basis.
Wardrobe

Wardrobe includes the design, construction and maintenance of costumes for productions and our Wardrobe resource. Opportunities exist to work with and be mentored by experienced designers from the membership. From simple sewing to expert dressmaking any level of skill is welcome. REP also holds Retro Clothing sales throughout the year, providing another opportunity where volunteer helpers can work with the wardrobe regulars.
Hairdressing/Makeup

Most actors do their own hair/makeup for each performance: however, for some shows specialised hair and/or makeup is required. Opportunities exist for members to work with wigs and makeup in conjunction with REP productions.
Become a member; become involved — and get the most out of Canberra REP