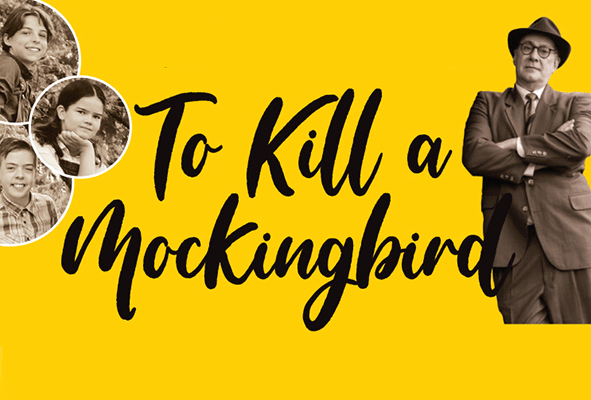 by Christopher Sergel
based on the novel by Harper Lee
Director Anne Somes
SOLD OUT for the rest of the Season
Season: Wed - Sat 8pm - 28 March - 13 April 2019
Matinees: 6, 7 & 13 April at 2pm
 


Scout, a young girl in a quiet southern town, is about to experience the dramatic events that will affect the rest of her life. She and her brother, are being raised by their widowed father, Atticus, and by the strongminded housekeeper Calpurnia. Wide-eyed Scout is fascinated with the sensitively revealed people of her small town, but, from the start, there's a rumble of thunder just under the calm surface of the life here. This play is a meaningful work of art.

Run time: Approximately 2h 30 m, incl interval
Venue: Naoné Carrel Auditorium
The first performance of this production is an education preview performance and includes pre-show introduction and a talk/Q&A with the Director and Cast following the performance.
Cast for this production
Jean Louise Finch – Scout – Jade Breen
Jeremy Finch – Jem – Jamie Boyd
Charles Baker Harris – Dill – Jake Keen
Atticus Finch – Michael Sparks
Calpurnia – Jaiti Khosla
Maudie Atkinson – Antonia Kitzel
Stephanie Crawford – Adele Lewin
Mrs Dubose – Barbara Sekuless
Boo Radley – Cameron Thomas
Heck Tate – Ian Russell
Judge Taylor – David Bennett
Reverend Sykes – Rowan McMurray
Mayella Ewell – Stephanie Wilson
Bob Ewell – Tim Stiles
Walter Cunningham – Paul Jackson
Horace Gilmer – Peter Holland
Tom Robinson – Jack Tinga
Clerk – Brian Daly
Maycomb County Townsfolk
Luca Collins
Evie Tattam
Ethan Cowie
Nick Dyball
Shennia Spillane
Haddie Davies
Chandra Kommalapati