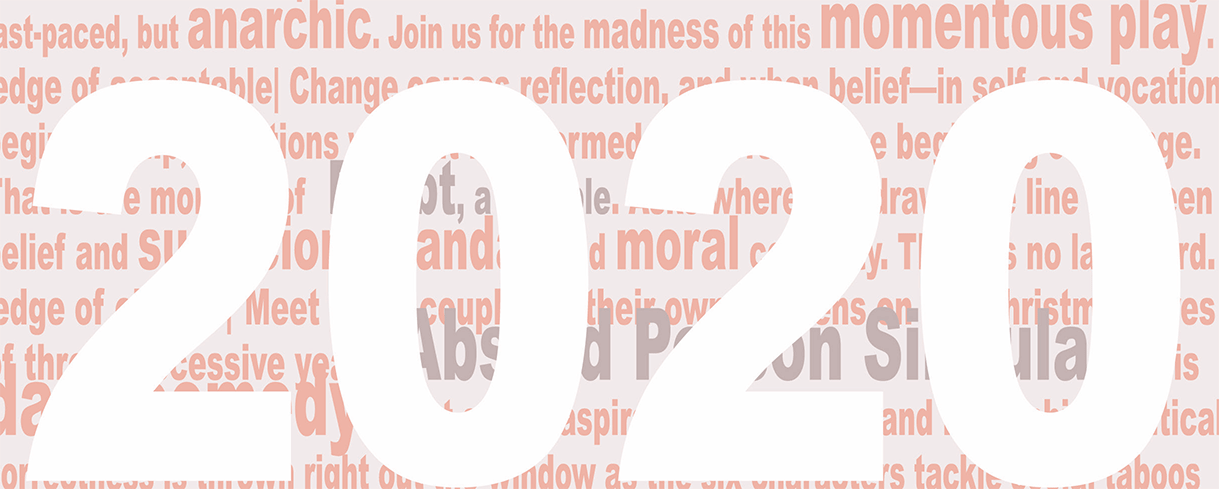 From the Edge
Canberra REP launched its 2020 Season on 13 September at the Canberra REP Theatre, 3 Repertory Lane Acton. Our 2020 Season, From the Edge, explores powerful, reflective and sometimes edgy works. Explore with us some well-loved classics, confronting dramas, riotous mayhem, and laughter with thought provoking, poignant and, at times, outrageous humour. Last year we named our auditorium in honour of one of our past members—Naoné Carrel. This year to continue the theme of change, we as a community company have made the decision to rename the building itself. The 2020 Season welcomes you to the Canberra REP Theatre.
The season opens with The Grapes of Wrath, a Frank Galati adaptation of the classic John Steinbeck novel. Renowned as a much loved Pulitzer-Prize winning novel, and then as an award-winning motion picture, John Steinbeck's classic story of the Joad family and their flight from the dustbowl of Oklahoma to California in search of a better life, comes brilliantly to life in this multiple Tony Award-winning play developed by the Steppenwolf Theatre Company. Chris Baldock returns to REP to direct this deeply moving affirmation of the strength of the human spirit.
The second play will be Neil Simon's Brighton Beach Memoirs. The play introduces us to Eugene Jerome and his family, fighting the hard times of the depression in Brooklyn with laughter, tears, and love. Young Eugene is witty, perceptive, obsessed with sex and forever fantasising about his baseball prowess as star pitcher for the New York Yankees. Eugene's memoirs show us how the Jerome family meet life's challenges with pride, spirit, and wonderful humour. But as this innocent era of Eugene's life ends, it foreshadows a more mature one just beginning. Directing for REP for the first time is Karen Vickery who is well known and loved by REP audiences.
The third play of the season is The Governor's Family by Beatrix Christian, from the Award winning writer of the film Jindabyne, television's White Collar Blue, and MDA, and plays including Fred, Blue Murder and Old Masters. REP is delighted to present this Australian play about a (fictional) Governor in late 19th century New South Wales. The play examines many of the social, moral and political issues of that time as it follows a riveting set of criminal allegations. It is a play about change, particularly the generational change experienced through a move away from Britain and towards national independence. Although The Governor's Family is set in a specific time and place, it could be about any Australian family, in any place. The issues it raises are as relevant now as they have ever been. REP is most pleased to welcome back Tony Llewellyn-Jones to direct this epic Australian work.
Then, for something completely different, REP stalwart Liz Bradley returns to direct Joe Orton's hilarious farce, What the Butler Saw. This dark farce is full of twists and turns, changes of fortune, mishaps, inconvenient coincidences and lascivious libidos – everything you'd hope for in a rollicking farce! Labelled outrageous, subversive and provocative when it premiered in 1969, What the Butler Saw retains its capacity to shock more than fifty years later. Please join us for the madness of this momentous play.
The fifth play of the 2020 Season is Doubt, A Parable by John Patrick Shanley, winner of the Pulitzer Prize in Drama as well as the Tony Award for Best Play in 2005. This drama follows the challenges faced by a progressive parish priest teaching in a school with a rigidly conservative nun as principal. The play explores the question of where one draws the line between belief and suspicion; scandal and moral certainty. When does the search for truth turn into an unholy crusade? Director Ed Wightman returns to REP to direct this powerful play that promises to entertain as well as to make you think.
The final play of the 2020 season is Absurd Person Singular by Alan Ayckbourn directed by the indefatigable Jarrad West. Three couples, three kitchens and three successive Christmas Eves are the basis of this dark comedy about social aspirations, marriage and friendship. With secrets, lies, social awkwardness and a hefty dose of obsessive cleaning, the play follows the humble but ambitious Hopcrofts as they seek to gain social status and advancement through networking with two other couples. Join us at REP to find out who ends up dancing to whose tune!
Celebrate with Canberra REP in our 88th year as we share our passion in presenting theatre for you which shines from within the Canberra community. Come along and join us!