REP Digital Programs — We'd love your feedback!
Canberra REP are considering a transition to digital programs, supported by colour printed A5 flyers, starting in Season 2024. Please scroll down to view our Mr Bennet's Bride digital program and forward any feedback to marketing@canberrarep.org.au
---
MR BENNET'S BRIDE
by Emma Wood
An amateur production by arrangement with Stagescripts Ltd
---
CAST
James Bennet — Sean Sadimoen
Emily Gardiner — Stephanie Waldron
Robert Bennet — Rob de Fries
Mary Ellingworth — Liz St Clair Long
Benedict Collins — Terry Johnson
Mrs Graves — Sally Rynveld
George Gardiner — Iain Murray
Sarah Gardiner — Kate Harris
Mrs Bowman — Rina Onorato
Clara Bowman — Cameron Rose
SETTING
Hertfordshire, UK
late 18th Century
RUN TIME
2hr 20min incl. 20min interval
Bar service available during interval & after the performance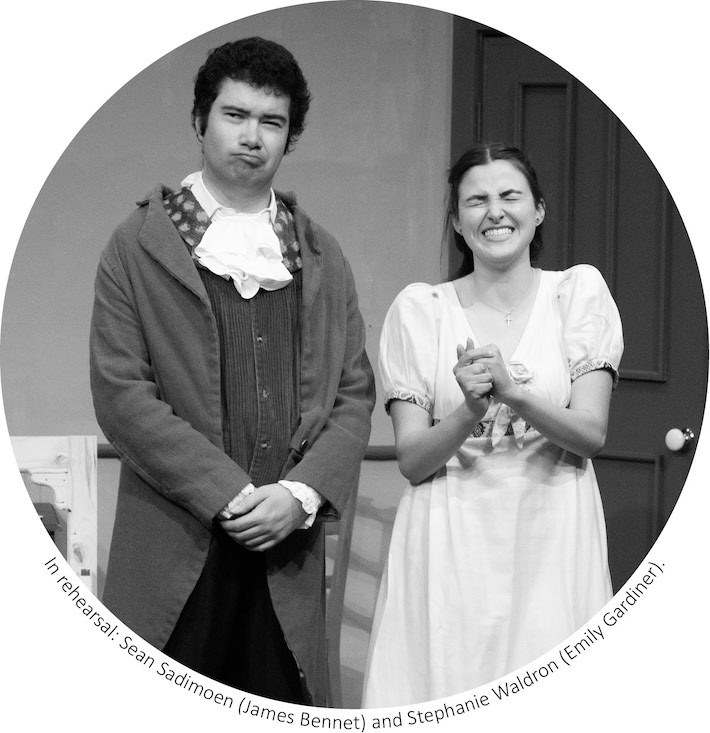 ---
SYNOPSIS
A man in possession of a fortune must be careful how he chooses a wife.
In country England, 25 years before Pride and Prejudice, the convoluted landscape of family loyalties and social expectations makes marriage frustratingly necessary. Still, Mr Bennet is determined to choose a wife on his own terms—a decision he may come to repent for many long years! This prequel you've always wanted reveals a backstory for Austen's greatly-loved, but ill matched, Mr and Mrs Bennet.
ACT ONE
Scene 1 • The Bennet's Residence, late morning
Scene 2 • The Bennet's Residence, a month later
Scene 3 • The Gardiner's Residence, a week later
Scene 4 • The Gardiner's Residence, 3 days later
INTERVAL
ACT TWO
Scene 1 • The Bennet's Residence, a few weeks later
Scene 2 • The Bennet's Residence, that evening
Scene 3 • The Bennet's Residence, next morning
Scene 4 • The Gardiner's Residence, that afternoon
Epilogue • Three Tableaux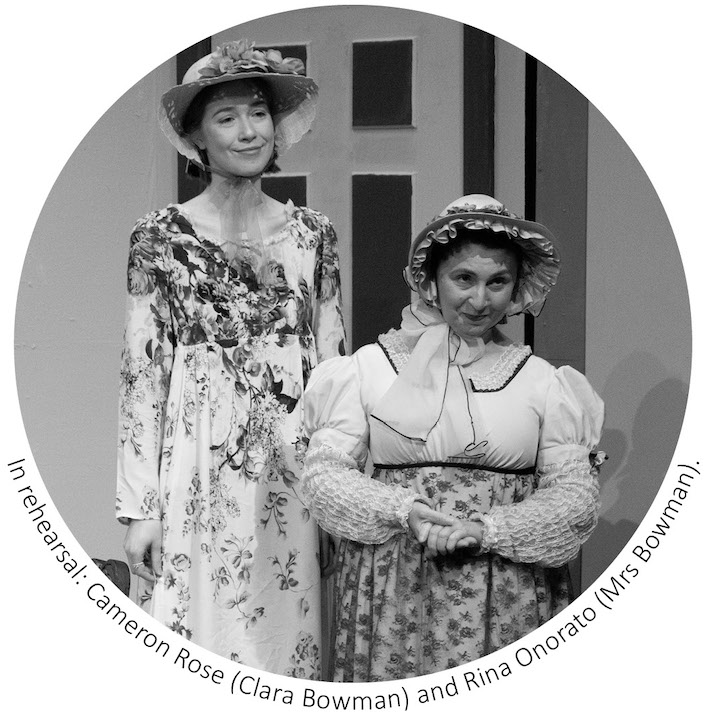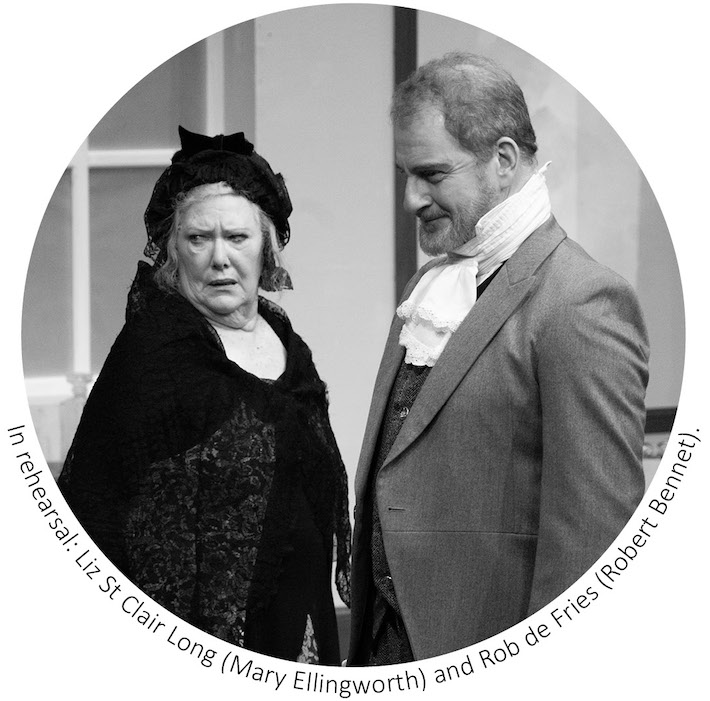 ---
DIRECTOR'S NOTE
Mr Bennet's Bride was written as a prequel to Jane Austen's novel Pride and Prejudice. As well as having its own entity, it goes some way towards illuminating the genesis of Elizabeth Bennet, through the circumstances leading to the marriage of her parents.
Emma Wood follows her predecessor in subject matter, while her style is Romantic, edging towards Realism, with the genre also inching from High Comedy to TragiComedy.
"Austen writes about the fates and choices of marriageable daughters; about femininity and class; about forms of identity and marriage as a political institution which reproduces—symbolically as well as literally—the social order.
Elizabeth Bennet embodies a very different kind of femininity from that of the typically passive, vulnerable and child-like romantic heroine; her wit and outspokenness make her the most immediately attractive of all Austen's female protagonists.
Mary Wollstonecraft's Vindication of the Rights Of Women (1790) claims liberty, equality and citizenship for women, and offers a devastating critique of the process by which women come to identify themselves as sexual beings, incapable of rational thought or independent action [...] all their thoughts turn on things calculated to excite emotion and feeling, when they should reason." — Vivien Jones
This play reverses the traditional expectation, with the hero James smitten to helplessness by love, while the heroine Emily makes shrewd calculations regarding her choice of marriage. Either way the dilemma of love and marriage remains, though thankfully, the woman is less seen as a commodity to be bartered.
"Until fairly recently (and even now in more primitive societies) marriage was an economic, biological and social contract, valuable and necessary for the consolidation of family property and possessions, the continuation of the race, the solidifying and dignifying of position, insurance against old age. It was a contract into which both parties entered with the full realisation of what they were bringing to it, what they were expected to contribute to it, what their duties were, their responsibilities and their privileges. Marriage was a state of honour, dignity and respect, beneficial to the whole community. Love might or might not happen, but incidentally to the main purpose of the contract.
As our social bulwarks have fallen away, or been torn down, and the structure of society has become looser, more fluid—more enlightened if you like—less rigid, anyway—love has assumed a greater and greater importance as the basis of marriage. Ideally, according to our current canons, the only basis for marriage.
Quite reasonably love usually baulks at being so saddled, and either lies down under the load, leaving the marriage to inertia, or it bucks it off and gallops away on an irresponsible escapist frolic in the pastures of freedom, with the divorce courts on the side of them.
To expect marriage to last on a diet of love alone seems folly, but to marry without love is a greater folly yet." — Charmain Clift
Aarne Neeme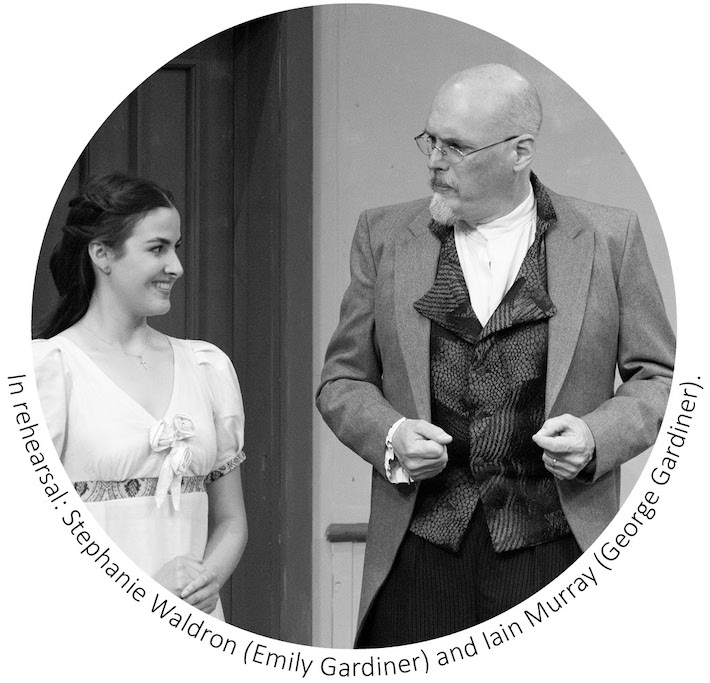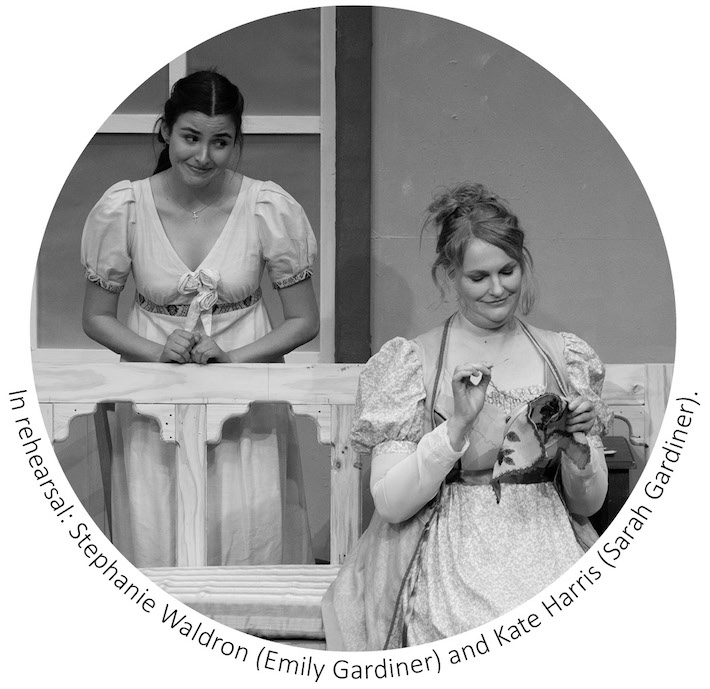 ---
PLAYWRIGHT • Emma Wood
Emma Wood was born in Canberra and lived here until she was 22. After a few years moving around she settled in Newcastle and began acting with the Newcastle Theatre Company. They produced her first first play in 2012, the infertility drama Water Child, which won the City of Newcastle Drama Awards' Best New Play.
Mr Bennet's Bride came from Wood's speculation about why the ill-matched Mr and Mrs Bennet of Pride and Prejudice would come together. Researching late 18th-century England, setting the action 25 years before Pride and Prejudice's publication year of 1810, Wood looked at how marriage was often as much a business transaction as a romantic one. The 2014 premiere at Newcastle Theatre Company became their third-biggest seller in the company's 57-year history. In 2015 it had a return season in Newcastle as well as a tour to Sydney, playing at Zenith Theatre, and Canberra, playing at Canberra REP Theatre (then Theatre 3) as part of the 8th Annual Jane Austen Festival. Since then it has played all over Australia and in the UK.
Her subsequent play The Third Act, about a divorced woman dealing with the upcoming marriage of her daughter, was given a public reading by Pigeonhole Theatre at Canberra Theatre's Playhouse for International Women's Day before having its world premiere at Newcastle Theatre Company in 2018. Her comedy, A Hit and Miss Christmas, about a small theatre company preparing for their annual Christmas play, was a finalist in the New Comedies Festival at B Street Theatre in California in 2020, and a semi-finalist at both the Headwaters Festival in Colorado and the Dreamcatcher Repertory, New Jersey, in 2021. Her most recent play, Piece of Mind, a comedy about two old friends who set up a unique but risky business opportunity, had its premiere in LA at the Brickhouse Theatre, North Hollywood, in December and January this year.
Four of her plays are being produced this year, including tonight's production, The Third Act in Malvern and North Narabeen, and A Hit and Miss Christmas in Warrandyte. Piece of Mind will play at the Canberra Theatre's Courtyard Studio in early-2024, produced by papermoon theatre.
Wood has also written short plays that have been performed around the world, including winning Audience Choice at Short and Sweet Manila in 2017. As an actress she graced the REP stage in Blithe Spirit (2014; CAT Nominee Best Leading Actress) and Witness for the Prosecution (2016; CAT Nominee Best Featured Actress). She also performed locally in the original cast of Pigeonhole Theatre's production of Playhouse Creatures (2016 at The Q; 2017 at Canberra Theatre and the 16th Mondail du Théâtre, Monaco).
Wood now lives in Melbourne and works as an English and Drama teacher and Marriage Celebrant. She finds time to raise two children and occasionally appears on-stage with Eltham Little Theatre.
compiled by Simon Tolhurst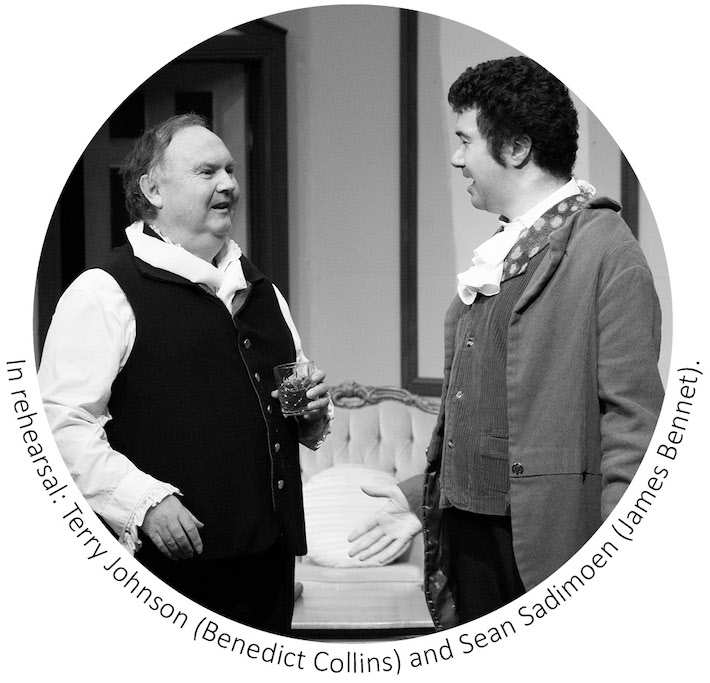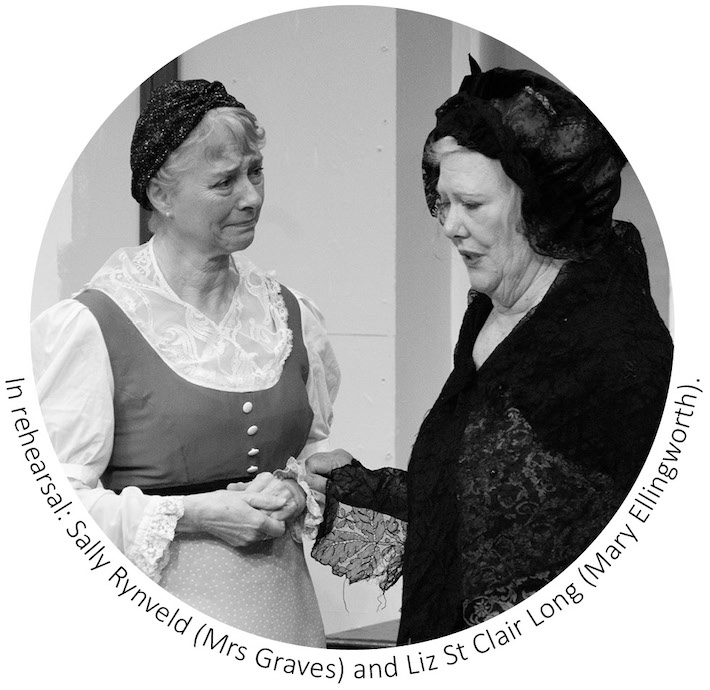 ---
CREDITS
Director • Aarne Neeme
Stage Manager • Mandy Brown
Set Designer • Andrew Kay
Set Coordinator • Russell Brown OAM
Set Construction & Painting • Russell Brown OAM, Gordon Dickens, Wolf Hecker, Andrew Kay, John Klingberg, Brian Moir, Eric Turner
Properties • Brenton Warren
Properties Assistant • Pip Muller
Costume Designer • Anna Senior OAM
Wardrobe Coordinator • Jeanette Brown OAM
Costume Makers • Cheryll Bowyer, Jeanette Brown OAM, Suzanne Hecker, Anne Moloney, Anna Senior OAM, Anne Turner, Joan White
Lighting Designer • Mike Moloney
Lighting Operators • Ashlyn Moloney, Daniel Moloney, Mike Moloney, Michael Webb
Sound Designer • Justin Mullins
Sound Operators • Leeann Galloway, Larry Mays, Leo Mansur, Disa Swifte
Front of House Coordinator • Elizabeth Goodbody
Front of House Volunteers • Members of the REP FoH Team
Production Manager • Mal Houston
Council Production Liaison • Maggie Hawkins
Marketing • Helen Drum, Karina Hudson
Promotional image, headshots, & rehearsal photography • Karina Hudson
Production photography • Karina Hudson, Eve Murray
Foyer photographs • Ross Gould
Graphic design • Tiana Johannis Design, Karina Hudson
Program • Karina Hudson
Thanks to • ANU Llewellyn Hall
---
FROM THE PRESIDENT
Play your part in helping REP continue to play its important role in Canberra's theatre scene.
Canberra Repertory Society (REP) receives assistance from the ACT Government, through the use of the venue, and from some sponsorships. We do not receive any operational grants — our activities are almost entirely self-funded. We rely on box office receipts, memberships, and your generous tax deductible donations that enable us to continue producing professional-quality theatre.
Canberra Repertory Society is a registered charity with the Australian Charities and Not-for-Profit Commission (ACNC); is registered with the Australian Government through the Australian Tax Office as a Deductible Gift Recipient (DGR); and is listed on the Register of Cultural Organisations (ROCO), administered through the Department of Infrastructure, Transport, Regional Development, Communications and the Arts.
Antonia Kitzel, President
---
OUR DONORS
REP truly appreciates the generosity and commitment of each and every donor. Gifts, both financial and in kind, made by individuals guarantee the excellence that patrons have come to expect from our productions. Donors who gave fifty dollars or more in the current financial year are recorded below.
Anonymous, Geoffrey Bartlett, Judith Bateman, Kevin & Pauline Bryant, Judi Crane, Amy Crawford, Pam Crichton, Roslyn Engledow & Graeme Dennett, Julie Ermert, Stephen Fischer, Ken & Carmel Francis, Graham & Gillian Giles, Lesly Harland, Kathleen Holtzapffel, Keith Huggan, Robert McColl, Mary-Ann McQuestin, Anne Moten, Therese Neal, Sandie Parkes, Joan Pratt, Andreas Radtke, Oliver & Helen Raymond, Michael Reddy & Christine Miller, Henning & Jude Schou, David Smith, Hugh Smith, Edy Syquer, Mike & Pat Varga, Fiona Tito Wheatland, David & Jan Weeden, Maureen Whittaker, Geoff Williams, Dr Peter S Wilkins, Tim & Shane Woodburn
---
COUNCIL & STAFF
President • Antonia Kitzel
Vice Presidents • Virginia Cook, Victoria Dixon
Treasurer • Stephen Fischer
Council Members • Anne Gallen, Elizabeth Goodbody, Nathan Hannigan, Ian Hart, Maggie Hawkins, Wolf Hecker, Alexandra Pelvin, Michael Sparks OAM
Company Secretary • Malcolm Houston
Minutes Secretary • Winston Bucknall
Business Manager • Helen Drum
Box Office Staff • Ben Waldock
Marketing Assistant • Karina Hudson
Bookkeeper • Fiona Langford
---