If you want to build your technical and design skills in lighting, sound, costume, set, or stage management, REP Studio's Workshops will give you access to the highly experienced and professional designers and technicians we have on our mainstage productions. Limited paid spots will be available for each session. So, if you see a Workshop you like below, best book in quick!
If you have any questions please email studio@canberrarep.org.au or call (02) 6257 1950 or (02) 6247 4222.
Want to be the first to know about Workshops? Join our fortnightly eNews.
---
UPCOMING WORKSHOPS
Coming soon.
PRICING
Member — $38
Non-member — $50
All sales are subject to a $4 per transaction Telephone Booking Fee
Online Bookings available closer to the event date.
---
PAST WORKSHOPS
Set Design & Construction Workshop (2 days) — 1 & 9 July 2023 — CLICK FOR DETAILS
Stage Management Workshop (2 days) — 23 July & 20 August 2023 — CLICK FOR DETAILS
Theatre Lighting Workshop (1 day) — 19 August 2023 — CLICK FOR DETAILS
---
Set Design & Construction Workshop
Presented by REP Studio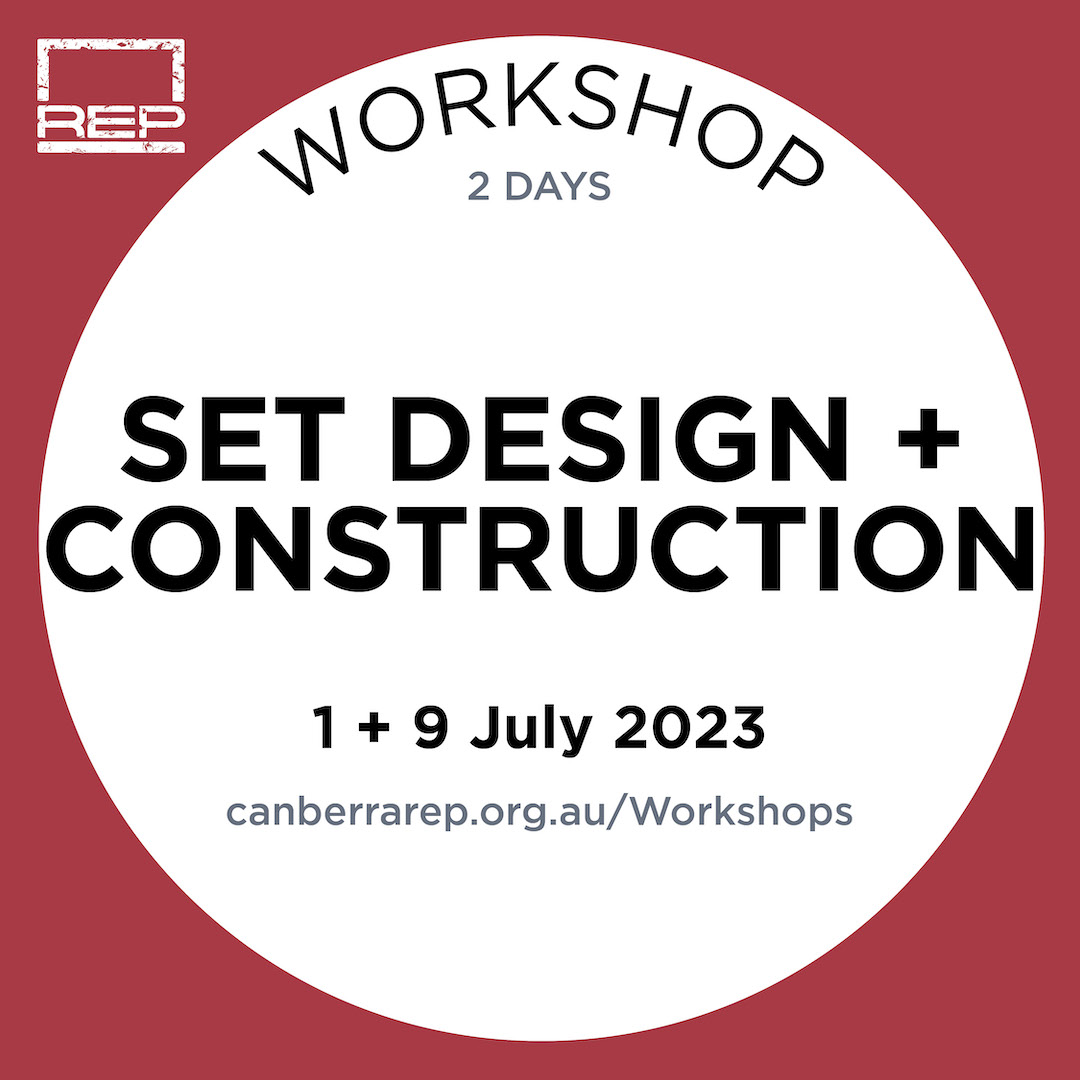 DETAILS
Day 1: Saturday, 1 July 2023, 9:30am – 12:30pm
Day 2: Sunday, 9 July 2023, from 10:00am
Location: Canberra REP Theatre
ABOUT THE WORKSHOP
Over two days, you will gain extensive knowledge and hands-on experience in Set Design & Construction for theatre.
On Day 1 you will engage in an intensive session with our highly experienced Set Designers and Builders. You will cover: how to generate design ideas; the various styles of set design; how to use different set elements (including scrims, cycloramas, flats, and risers); and the importance of finishing a set well. This in-depth discussion will be accompanied by practical examples from REP productions. Day 1 will conclude with a practical discussion on the safe use of power tools and the best way to dismantle a set during bump-out, after a show has closed.
The following weekend, on Day 2, you will gain practical, hands-on experience as you assist in the bump-out of our intricate, two-storey set for Home, I'm Darling.
ABOUT YOUR INSTRUCTORS
Michael Sparks OAM
Michael is a Canberra-based actor and theatre-maker. He is known to REP audiences for his portrayals of: Andrew Makepeace Ladd III in Love Letters; Big Daddy in Cat on a Hot Tin Roof; Jim Casy in The Grapes of Wrath; Korzh in The Woman in the Window; Atticus Finch in To Kill a Mockingbird; and Creature in Dr Frankenstein. Michael has designed many sets for REP including: Crimes of the Heart; Our Country's Good; Hotel Sorrento; The Crucible; Steel Magnolias; The Woman in the Window; Macbeth; and Wait Until Dark. Michael is the recipient of numerous awards for acting and set design including multiple Canberra Critics Circle Awards, CAT Awards, and REP's own Ted Light Trophy.
Russell Brown OAM
Russell has been a member of REP for over 50 years, and in that time he has been involved in almost every aspect from President to performing, set design to set building, props making, furniture making, and tricky effects. With his dedicated team of builders and painters, he whiles away his time making magic for our audiences. He was recently named REP Living Treasure for his many contributions to the Society.
Andrew Kay
As well as being known as the musical director of REP's historically long running Old Time Music Hall and as an actor in more than a few plays, Andrew has designed more than thirty sets for REP and worked on the construction crew and as scenic painter for countless more. Andrew has won multiple CAT Awards for his sets and, in 2021, a further Recognition of Excellence "For multiple set designs for Canberra Repertory Society". Among his set designs for REP are those for: Love Letters and Home, I'm Darling (2023); Arsenic and Old Lace (2022); The Governor's Family (2021); Absurd Person Singular (2020); Uncle Vanya (2016); Blithe Spirit (2014); The Book Of Everything (2013); Pride And Prejudice (2012); The School For Scandal (2006); The Woman In Black (2005); and On The Razzle (2004). Andrew is a REP Life Member and the inaugural recipient of the Fay Butcher Award for Exceptional Contribution to the Society.
---
Stage Management Workshop
Presented by REP Studio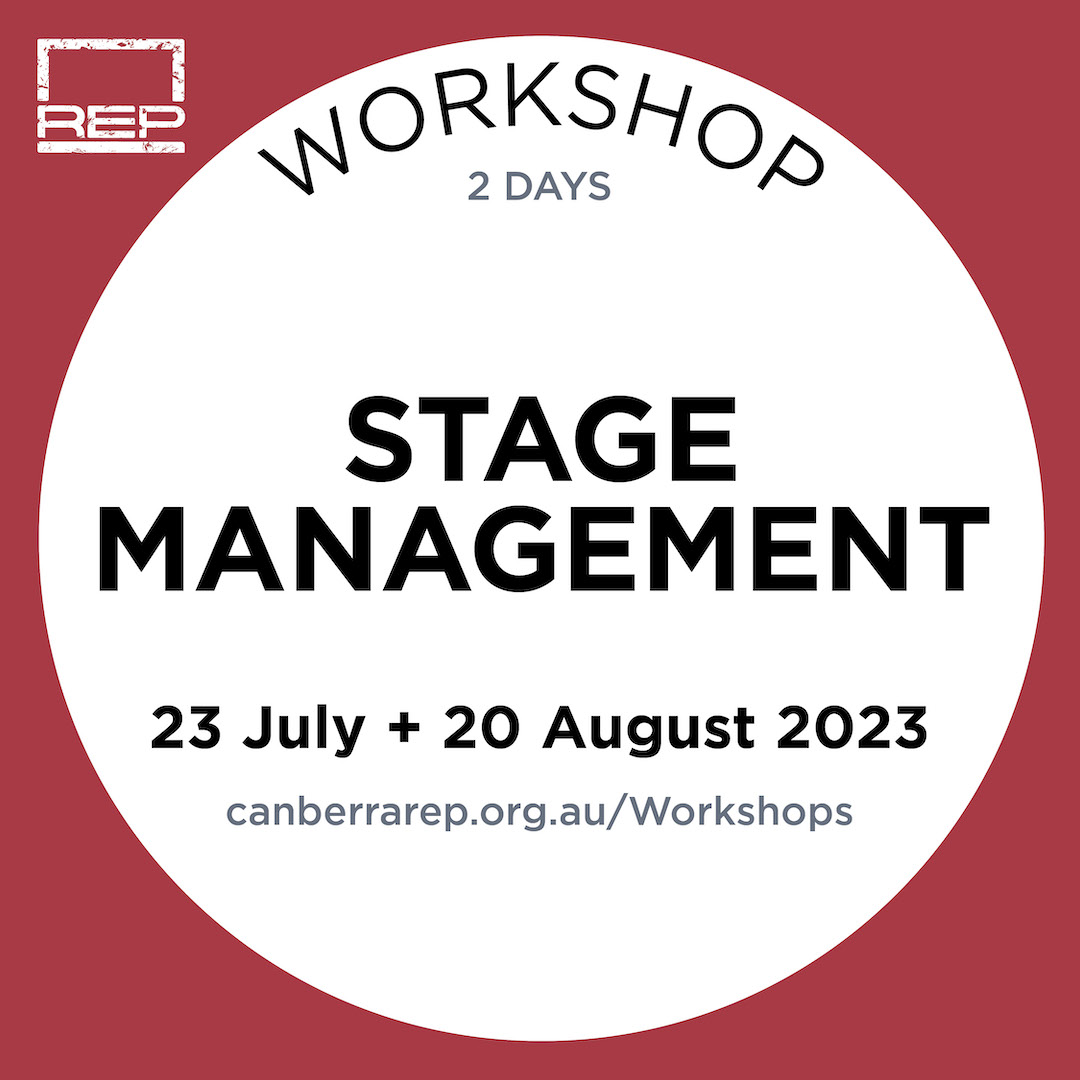 DETAILS
Day 1: Sunday, 23 July 2023, 10am – 4pm
Day 2: Sunday, 20 August 2023, 10am – 4pm
Location: Canberra REP Theatre
ABOUT THE WORKSHOP
Over two days, you will gain in-depth knowledge and practical experience in Stage Management for theatre.
Day 1 will introduce you to the role of a Stage Manager, what makes a good one, the 'many faces' from pre- to post-production, and how to read a script with a technical eye. This discussion will be followed by practical exercises in marking-up a stage, before you are welcomed behind-the-scenes to witness Tech Week in progress on our production of Amadeus.
A few weeks later you'll bring your burning questions back to Day 2, where you'll learn how to work with a Director, designers and actors, and the hardest thing about Stage Management. You'll then have a practical experience running a rehearsal room, Tech Week, and calling cues for our production of Mr Bennet's Bride.
ABOUT YOUR INSTRUCTOR
Mandy Brown
Mandy started working at REP in the late 1970s while still in high school. Quickly realising that acting was not her forte she developed an interest in the technical processes of theatre and hasn't looked back. In 1983 she had the good fortune to work with Aarne Neeme for the first time and was encouraged to enter 'the profession' by applying for the technical course at NIDA. Since graduating Mandy has company/production/stage managed, designed lights, and managed orchestras in Canberra and other capitals, and has toured extensively through regional NSW, Queensland, SA, Victoria, and Tasmania. She has also turned her hand to directing from time to time.
---
Theatre Lighting Workshop
Presented by REP Studio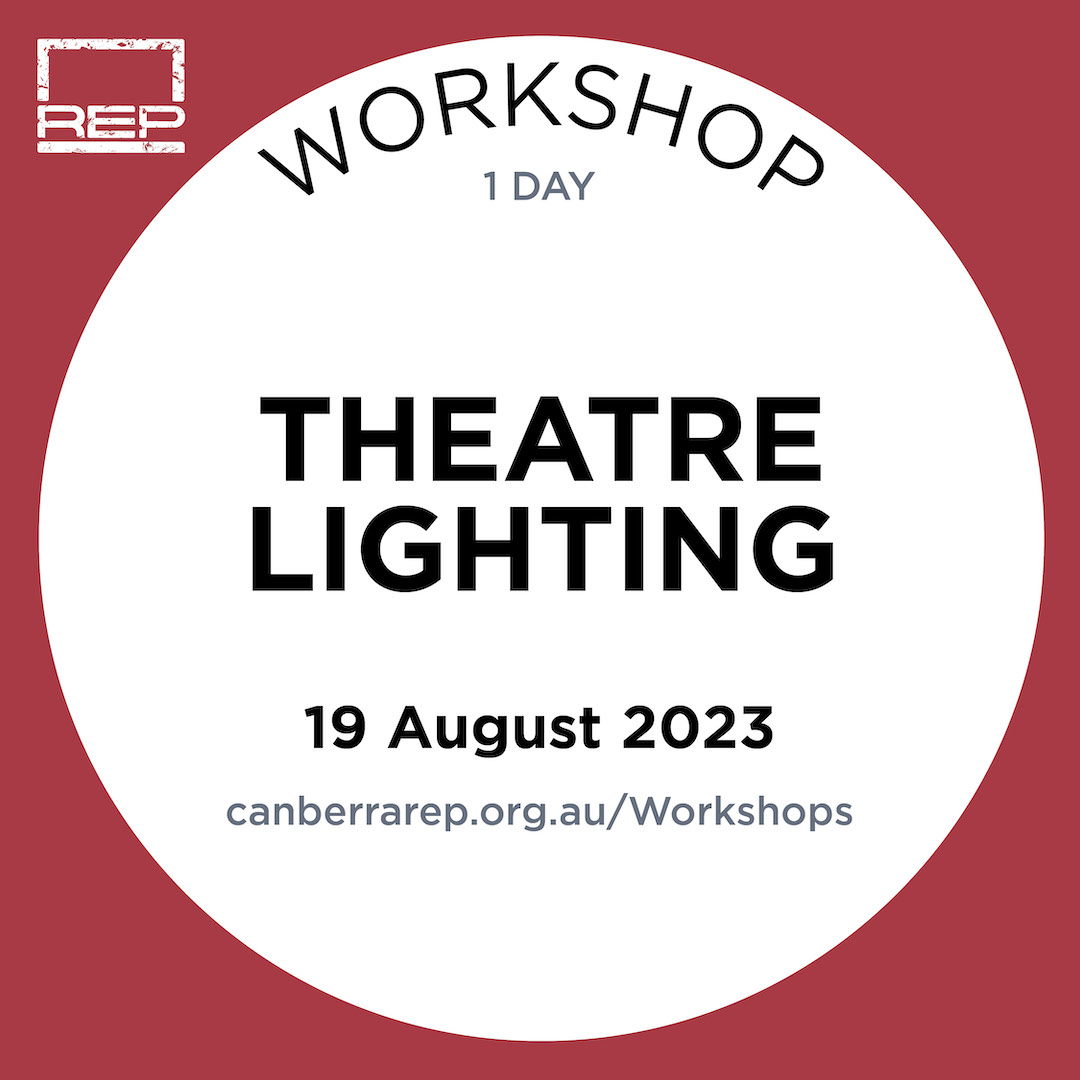 DETAILS
Date: Saturday, 19 August 2023
Time: 11am – 4pm
Location: Canberra REP Theatre
ABOUT THE WORKSHOP
In this one day intensive, you will learn the basic principles of theatre lighting design and the role that lighting plays in bringing a production to life. You will gain a hands-on introduction to the different types of lighting fixtures and accessories, including how they are used. You will then engage in a practical group session to create a basic lighting design then hang, patch, focus, and colour the lights to bring the design to life on the REP stage. You will then learn the basics of controlling and programming the lights using REP's lighting console.
ABOUT YOUR INSTRUCTOR
Nathan Sciberras
Nathan has always had a keen interest in live theatre, and for lighting in particular (being the son of well-renowned Canberra theatre lighting veteran, Alex Sciberras). Looking to build on this interest, Nathan joined REP productions as a crew member and completed his first lighting design on the 2019 production of Waiting in the Wings, which played at both Canberra REP Theatre and The Q. He has gone on to design for numerous REP productions since then including: What the Butler Saw; Rope; Rosencrantz and Guildenstern are Dead; Arsenic and Old Lace; and Sense and Sensibility. Nathan has won CAT Awards for two of his designs.
---