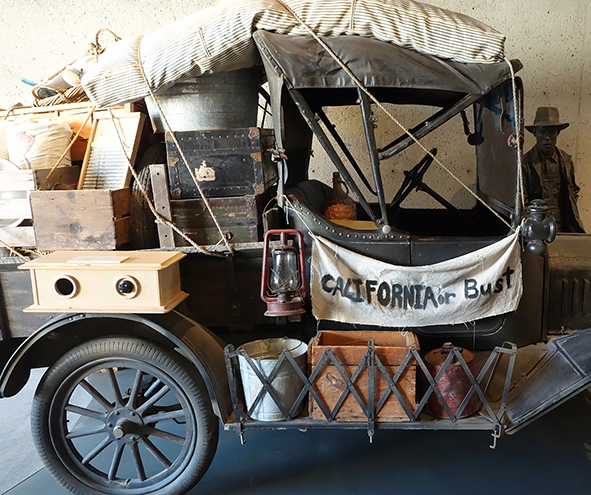 DRAMA - the edge of society
From a playwright and director based primarily with Steppenwolf Theatre Company he has also adapted for the stage As I Lay Dying and H Murakami's After the Quake.
Frank Galati's stage adaptation of the novel by John Steinbeck
Director Chris Baldock
13—29 FEBRUARY 2020
Season: Wed - Sat 8pm 
Matinees: 22, 23, 29 Feb at  2pm
* (Education/Director, Cast and Crew Talk-back following Preview Performance 13 Feb)
An epic story, with great tragedy and challenge, and explores human desperation and determination.
The Grapes of Wrath tells the powerful story of the Joad family's trek from the dust bowl of Oklahoma to the promise of a new life in California. They are heading west in their own starving nation, but being treated at every moment like non-resident aliens. Seen by everyone they meet as undesirables, this extended family just wants work, happiness and a small slice of the American Dream. In every community through which they travel they're viewed as part of a terrifying wave of the needy, a disruption of normal life, something to be repelled en masse. So much has not changed in our world today. One critic reflecting on its continued relevance said: "Steinbeck didn't want us to lose hope — he wanted us to get angry at those who would strip hope from us".
An amateur production by arrangement with Hal Leonard Australia Pty Ltd.
CAST
Tom Joad: James McMahon
Jim Casy: Michael Sparks
Ma Joad: Karen Vickery
Pa Joad: Maurice Downing
Rose of Sharon: Amy Kowalczuk
Uncle John: Jerry Hearn
Granma Joad: Micki Beckett
Granpa Joad: David Bennett
Al Joad: Robbie Haltiner
Noah Joad: John Whinfield
Ruthie Joad: Jade Breen
Winfield Joad: Harrison Noble 
Boy In Barn (+ Noah understudy): Jamie Boyd
Female Ensemble:
Caitlin Baker (+Rose of Sharon understudy)
Liz St Clair Long 
Kate McHenry
Male Ensemble:
Thomas Hyslop
Alex Griffith
Andrew Smith
Rob Drennan
Production team:
Assistant Director - Lucie Niederer
Associate Director - Mary Willett
Production Manager - Mal Houston
SM - Joel Edmondson
Council Liaison - Liz de Totth
Costume Design - Helen Drum
Accent Coach - David Bennett