REP Digital Programs — We'd love your feedback!
Canberra REP are considering a transition to digital programs, supported by colour printed A5 flyers, starting in Season 2024. Please scroll down to view our Home, I'm Darling digital program and forward any feedback to marketing@canberrarep.org.au
---
HOME, I'M DARLING
by Laura Wade
By Arrangement with ORiGiN (TM) Theatrical, On Behalf of Samuel French, A Concord Theatricals Company
---
CAST
Judy • Karina Hudson
Johnny • Ryan Street
Fran • Natalie Waldron
Marcus • Terry Johnson
Sylvia • Adele Lewin
Alex • Kayla Ciceran
SETTING
London, UK
2018
RUN TIME
2hr 30min
incl. 20min interval
Bar service available during interval & after the performance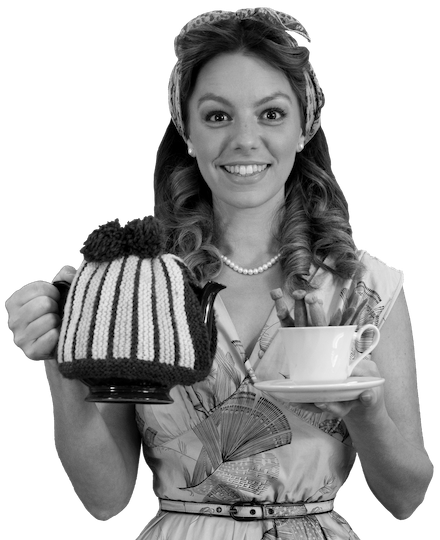 Judy (Karina Hudson)
---
SYNOPSIS
Every marriage needs a little fantasy to keep it sparkling.
Judy is on a quest to be the perfect 1950s housewife to her husband Johnny. The problem is it's 2018 and being a domestic goddess isn't as easy as following a manual. This Olivier-winning contemporary British satire pulls back the gingham curtains, making sharp observations about responsibilities, nostalgia, and choice in a marriage that is unravelling at the tightly sewed seams.
---
DIRECTOR'S NOTE
Who doesn't love the '50s? The glamour, the clothes, the music. Rock Hudson and Doris Day. A time when men were men and women loved them for it. Or something like that.
For Judy, it's a simple proposition. An unexpected redundancy gives her and her husband Johnny — both fans of the '50s aesthetic — the chance to go all in and embrace '50s values and culture. Judy runs the home, while Johnny steps into the role of breadwinner. By all accounts it's bliss. After all, things were gentler in the '50s. Community meant something. People were nicer, kinder. Unless, as Judy is reminded by Johnny's boss Alex, you were gay. Or Black. Or disabled. That Judy holds Rock Hudson up as a paragon of '50s heterosexual manliness is just one of the little ironies peppered throughout the play that highlight just how tinted her rose-coloured glasses are.
Laura Wade's Oliver Award-winning satire has a lot to say about the complexity of women's choices in the modern era, the pressures of modern life, and the desire to find a modicum of control in an unpredictable world. It's peopled with beautifully written characters, skillfully brought to life by my clever and capable cast. It was a joy working with such a focused, kind, and hilarious group of actors.
This production would not have been possible without the mammoth efforts of my production team. Thanks must go to Andrew Kay who embraced the challenge of designing (and redesigning) a complex and elaborate set, which was beautifully realised by Russell Brown and his indefatigable army of set builders. Assistant Director Antonia Kitzel was, as always, a fountain of wisdom and wearer of multiple hats. Stage Managers Ann-Maree Hatch and Paul Jackson provided calm, considered, and excellent support throughout the rehearsal period. Tying it all together are the creative touches of designers Helen Drum on costumes, Stephen Still on lights, Justin Mullins on sound, and Gail Cantle on props, while Judy and Marcus' fancy footwork was provided by Annette Sharpe. And, of course, the dedicated backstage crew, sound and light operstors, and front of house volunteers who provide invaluable support.
And finally, a huge debt of thanks to my Production Manager, Anne Gallen, who stepped up and into multiple roles through the rehearsal period, keeping the process seamless and ensuring everything was humming along more reliably than Judy and Johnny's fridge.
Alexandra Pelvin
---
PLAYWRIGHT • Laura Wade
Laura Wade was born in Bedford, England, and grew up in Sheffield. She studied drama at Bristol University and later became a member of the Royal Court Theatre's Young Writer's Program. Her first play, Limbo, was produced at the Sheffield Crucible Studio Theatre in 1996.
By 2005, Wade had two plays premiering — Colder than Here at the Soho Theatre and Breathing Corpses, with James McAvoy, at the Royal Court Upstairs — winning her the Critics' Circle Theatre Award for Most Promising Playwright. She also won the Pearson Playwrights Best Play Award and was a joint winner of the George Devine Award for Breathing Corpses.
In 2010, her play Posh premiered in the Theatre Downstairs at the Royal Court Theatre. Posh takes inspiration from the real-life Bullingdon Club — an exclusive Oxford University dining club noted for its wealthy membership (including former prime ministers David Cameron and Boris Johnson) and bad behaviour, such as vandalism of restaurants and student's rooms. Posh transferred to the West End in 2012 and was later filmed as The Riot Club (2014). Wade adapted the unfinished Jane Austen novel The Watsons in 2018 for Chichester Festival Theatre — subsequently transferring to the Meinier Chocolate factory in 2019.
Also in 2018, Wade premiered Home, I'm Darling at Theatr Clwyd in Wales. It transferred to the Royal National Theatre then to the West End, winning the Laurence Olivier Award for Best New Comedy in 2019. Home, I'm Darling has since been produced by Melbourne Theatre Company (2020) and Sydney Theatre Company (2021).
Wade is currently writing and executive producing a Disney+ TV series titled Rivals based on the novel by Jilly Cooper.
compiled by Simon Tolhurst
---
CREDITS
Director • Alexandra Pelvin
Assistant Director • Antonia Kitzel
Stage Managers • Ann-Maree Hatch, Paul Jackson
Assistant Stage Managers • Anne Gallen, Maggie Hawkins, Mae Schembri
Choreography • Annette Sharp, Madelyn White
Set Designer • Andrew Kay
Set Coordinators • Russell Brown OAM, Andrew Kay
Set Construction & Painting • Russell Brown OAM, Gordon Dickens, Rob de Fries, Rosemary Gibbons, Wolf Hecker, Andrew Kay, John Klingberg, Brian Moir
Set Dressing & Properties • Gail Cantle, Anne Gallen, Antonia Kitzel
Costume Designer • Helen Drum
Wardrobe Assistants • Jeanette Brown OAM, Ros Engledow, Rosemary Gibbons, Suzanne Hecker, Antonia Kitzel, Joan White
Lighting Designer • Stephen Still
Lighting Operators • Leeann Galloway, Deanna Gifford, Ashley Pope, Stephen Still
Sound Designer • Justin Mullins
Sound Operators • Justin Mullins, Disa Swifte
Front of House Coordinator • Wolf Hecker
Front of House Volunteers • Members of the REP FoH Team
Production Manager • Anne Gallen
Council Production Liaison • Michael Sparks OAM, Liz de Totth
Marketing • Helen Drum, Karina Hudson
Promotional image • Helen Drum
Headshots • Karina Hudson
Rehearsal & Production photography • Alex Fitzgerald, Eve Murray, Alexandra Pelvin
Foyer photographs • Ross Gould
Graphic design • Tiana Johannis Design, Karina Hudson
Program • Karina Hudson
Thanks to • Stephen Arnott, Mal Houston, Patrya Kay, Tom May, Chris McMurray, Rowan McMurray, Bren Pullen, Canberra Philharmonic Society
---
FROM THE PRESIDENT
Play your part in helping REP continue to play its important role in Canberra's theatre scene.
Canberra Repertory Society (REP) receives assistance from the ACT Government, through the use of the venue, and from some sponsorships. We do not receive any operational grants — our activities are almost entirely self-funded. We rely on box office receipts, memberships, and your generous tax deductible donations that enable us to continue producing professional-quality theatre.
Canberra Repertory Society is a registered charity with the Australian Charities and Not-for-Profit Commission (ACNC); is registered with the Australian Government through the Australian Tax Office as a Deductible Gift Recipient (DGR); and is listed on the Register of Cultural Organisations (ROCO), administered through the Department of Infrastructure, Transport, Regional Development, Communications and the Arts.
Antonia Kitzel, President
---
OUR DONORS
REP truly appreciates the generosity and commitment of each and every donor. Gifts, both financial and in kind, made by individuals guarantee the excellence that patrons have come to expect from our productions. Donors who gave fifty dollars or more in the current financial year are recorded below.
Anonymous, Geoffrey Bartlett, Judith Bateman, Kevin & Pauline Bryant, Judi Crane, Amy Crawford, Pam Crichton, Roslyn Engledow & Graeme Dennett, Gordon de Brouwer, Julie Ermert, Stephen Fischer, Ken & Carmel Francis, Graham & Gillian Giles, Lesly Harland, Kathleen Holtzapffel, Keith Huggan, Robert McColl, Mary-Ann McQuestin, Anne Moten, Therese Neal, Sandie Parkes, Joan Pratt, Andreas Radtke, Oliver & Helen Raymond, Michael Reddy & Christine Miller, Henning & Jude Schou, David Smith, Hugh Smith, Edy Syquer, Mike & Pat Varga, David & Jan Weeden, Fiona Tito Wheatland, Maureen Whittaker, Geoff Williams, Peter S Wilkins, Tim & Shane Woodburn
---
COUNCIL & STAFF
President • Antonia Kitzel
Vice Presidents • Virginia Cook, Victoria Dixon
Treasurer • Stephen Fischer
Council Members • Anne Gallen, Elizabeth Goodbody, Nathan Hannigan, Ian Hart, Wolf Hecker, Alexandra Pelvin, Michael Sparks OAM
Company Secretary • Malcolm Houston
Minutes Secretary • Winston Bucknall
Business Manager • Helen Drum
Box Office Staff • Ben Waldock
Marketing Assistant • Karina Hudson
Bookkeeper • Fiona Langford
---